South African Airways' business rescue practitioners have warned that the exhaustion of funding to draw up a rescue plan for the flag-carrier has left them with two stark options for the airline.
The practitioners state that they are facing the choice of attempting to secure a better return for SAA's creditors through a wind-down and sale process – which would involve personnel agreeing to termination of employment and severance packages – or making an "urgent application" to discontinue the rescue and place the airline into liquidation.
They argue that these proposals are the "most responsible way" to manage a cessation of SAA operations and the risks borne by all affected parties.
South Africa's government informed the practitioners, Les Matuson and Siviwe Dongwana, on 10 April that no further funding would be provided to develop a business rescue plan and restructuring for SAA.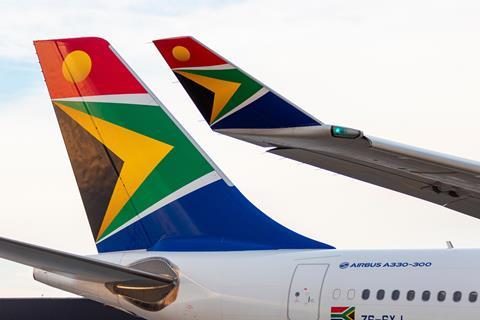 The airline has already fully drawn down and utilised R5.5 billion ($290 million) in government and commercial funding, and requests to the government for funding of retrenchment packages have not been successful.
As a result, the practitioners state, SAA has "no funds to continue trading". The practitioners cannot meet obligations to employees beyond 30 April and bear the costs of a wind-down.
"Accordingly the wind-down process…is dependent upon employees accepting the termination of their employment timeously by mutual consent," the practitioners add.
This collective agreement, providing for severance packages, must be reached by 24 April.
Along with the terminations of employment, the wind-down envisages a sales process being undertaken which will result in a distribution of proceeds to affected parties.