Scandinavian operator SAS is aiming to complete its court-supervised restructuring process in the second half of next year, as it releases its first full-year figures since entering US Chapter 11 protection.
Its Chapter 11 process is intended to enable the airline to progress with its extensive 'SAS Forward' restructuring programme. SAS says it has reached "important milestones", securing debtor-in-possession financing and obtaining concessions and savings with revised aircraft leasing agreements.
The company generated a pre-tax loss of SKr7.85 billion ($743 million) for the year to 31 October, and a net loss of just over SKr7 billion.
Its revenues reached SKr31.8 billion but this figure is still 32% down on its last pre-pandemic full year, although the fourth-quarter revenue gap has reduced to 21%.
Scheduled passenger capacity remains about one-third down on the pre-crisis level.
Over the fourth quarter the company posted pre-tax and net losses of SKr1.7 billion and SKr1.2 billion respectively.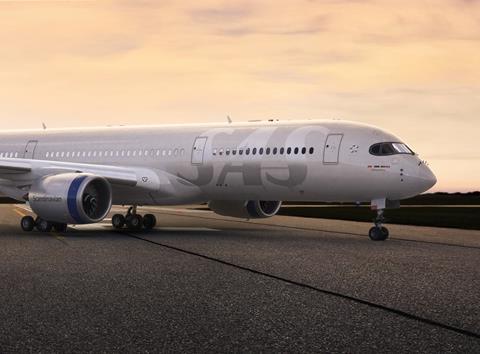 Chief executive Anko van der Werff says: "Overall underlying demand for travel was healthy during the summer and the trend continued through the fourth quarter, with an expected minor dip in October.
"We are now entering the slower winter months but are preparing for another active summer season in 2023 and are both re-hiring as well as hiring to be able to meet the expected increased demand."
SAS believes that demand for air travel, in terms of passenger numbers, will recover to around 90% of pre-pandemic levels by the end of the first half of its 2022-23 fiscal year.
Demand for short-haul leisure travel will recover to pre-crisis figures in fiscal 2024, it adds, with demand for short-haul business travel is expected to level off at about 80% of this threshold.
"Similarly, demand for long-haul leisure flights is expected to recover faster than demand for long-haul business flights," it adds.
SAS is forecasting revenues will reach SKr40 billion in fiscal 2023, but that it will still record a pre-tax loss of SKr4-5 billion, excluding gains or losses relating to Chapter 11 completion.
It predicts reaching positive pre-tax earnings in fiscal 2024.
Revenues will return to pre-crisis levels in fiscal 2025 and increase to SKr49 billion in fiscal 2026, when pre-tax earnings will reach SKr3-4 billion, at which time the 'SAS Forward' plan is expected to have been fully implemented.