Scandinavian carrier SAS is seeking court approval to proceed with a sale-and-leaseback transaction covering six Airbus A320neo jets to be delivered before the end of this year.
The aircraft are the subject of a provisional agreement with Griffin Global Asset Management.
SAS is progressing with a fleet re-organisation, under US Chapter 11 protection, as part of its 'SAS Forward' restructuring plan.
Delivery of the first of the six A320neos – powered by CFM International Leap-1A engines – is scheduled for 23 September.
Three more will be handed over in October, and SAS will receive one more in each of November and December, according to a 12 September court filing.
The first three aircraft will be leased for 144-month periods and the last three for 120 months.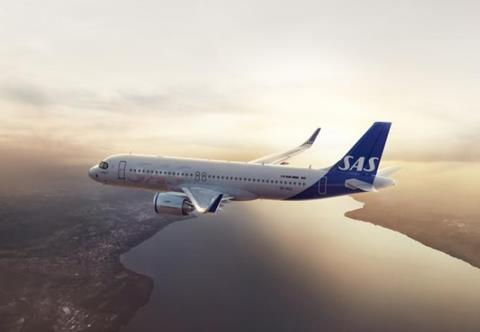 Financial details of the agreement remain confidential.
But in the filing, SAS's representatives state that the company obtained "favourable market terms" during the sale-and-leaseback negotiations with Griffin.
SAS sought interest from 30 lessors for the transaction. The filing admits interest was "low", given the company's fleet restructuring and "uncertainty" over current leases, but states that SAS received six offers.
"Of those offers, the offer submitted by Griffin was, in the view of [SAS], significantly the strongest [one]," it adds. The transaction will provide additional liquidity to the company, and savings generated will "further strengthen" the company's ability to achieve the aims of its 'SAS Forward' plan.