Scandinavian operator SAS has stayed with CFM International for a further batch of engines for its Airbus A320neo-family fleet.
SAS has directly ordered 65 A320neos of which 30 have been delivered. It also operates another 15 on lease, including a single A321LR, all of them fitted with the CFM Leap-1A powerplant.
CFM says SAS has again selected the manufacturer for the additional 35 aircraft it ordered in April 2018, topping up its original agreement for 30 placed in June 2011.
The deal covers 78 engines, comprising 70 for the 35 twinjets plus eight spare powerplants.
It also features a per-hour maintenance agreement bringing the overall list-price value of the order to $2.9 billion.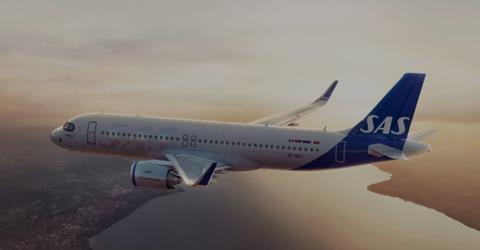 "We take SAS's trust as a great responsibility to keep supporting their operations with the high-level CFM standards in terms of reliability and utilisation," says CFM chief Gael Meheust.
SAS says the maintenance pact includes spares and also covers the 15 Leap-powered aircraft it has on lease.
"This new agreement is part of SAS's fleet upgrade program that aims to improve efficiency and sustainability performances," it adds.
SAS chief financial officer Magnus Ornberg says the Leap engines and the services deal are an "integral part" of the fleet modernisation.
"Our goal is to be industry leaders in sustainable aviation," he says. SAS is aiming to reduce emissions by 25% by 2025, against 2005 levels, through lower fuel consumption and the increased use of sustainable fuel.