Chinese operator Sichuan Aviation Industry Development is committing to converted Airbus A321 freighters, with the first to be inducted this month.
The company is to introduce aircraft modified under the scheme of US-based 321 Precision Conversions.
This conversion work will be undertaken in the Chinese city of Chengdu, by Sichuan aircraft maintenance and engineering firm SMECO.
SMECO is a venture created by companies including HAECO and Sichuan Airlines Group.
The first aircraft to be inducted is MSN1926 – an International Aero Engines V2500-powered airframe, originally delivered to Air Macau in 2003.
SAID will become the first Chinese customer and operator of the 321 Precision Conversions freighter model, and the twinjet will be introduced on domestic routes.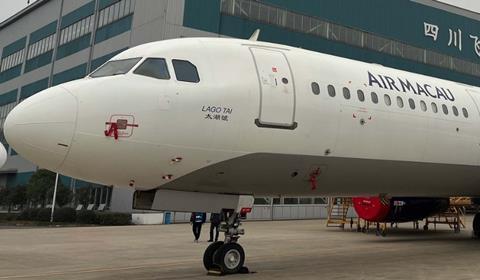 "We are confident [the Precision A321 freighter] is the perfect platform for future express and integrator cargo as well as general cargo," says SAID president Chen Bo.
"The low operating empty weight, reliability, and quality of Precision converted products is second to none."
He adds that the Chinese air cargo market has "huge growth potential".
Other A321 conversions will be carried out later this year and during 2024.
"This is a major milestone in our programme," says 321 Precision Conversions president Gary Warner. "The Precision product has earned a strong reputation and trust within China over the past 16 years."
Chinese specialist HAECO Xiamen recently completed and redelivered its first A321 converted freighter under the supplemental type certificate of 321 Precision Conversions. The aircraft is being introduced to the Maltese division of Latvian wet-lease carrier SmartLynx.
HAECO Xiamen is busy preparing to switch one of its Boeing 757-200 modification lines to A321 conversion this year, to support increasing interest in the model.