Slovenian regional operator Amelia International is to open its first all-cargo activities with the introduction of an ATR 72-200 freighter.
The aircraft arrived at Ljubljana on 6 January and will be based in the capital city.
Amelia International says it is "working with several freight brokers" and intends to develop its new cargo product "quickly".
The turboprop is a 1995 airframe originally delivered to Air Caraibes and later converted for ASL Airlines Ireland, according to Cirium data.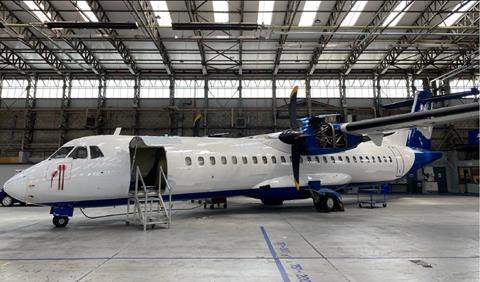 Amelia International is a Slovenian subsidiary of France's Amelia Group. It states that the air transport crisis has resulted in a "strong impact" on the economy, with the rise of e-commerce and other freight activity.
"Demand for air freight between European airports is growing rapidly," it adds, and it is taking the ATR freighter to address this need.
"We aim to offer our cargo clients the same professional and reliable service that we are known for in passenger operations from our bases in Europe and Africa," says managing director Matija Krajnc.
Leasing firm TrueNoord is supplying the aircraft, MSN461, to the carrier under a four-year operating lease agreement.
It states that Amelia International, which obtained its air operator's certificate in 2012, operates a fleet of regional passenger aircraft including Embraer ERJs and ATRs, but that the turboprop it is providing will be its first cargo model.