Spanish carrier Air Europa is to take 15 long- and short-haul aircraft under a lease agreement with Irish-based AerCap.
Air Europa is to bring in five Boeing 787-9s and 10 737 Max 8s under the pact.
It will take delivery of the jets over the course of 2024-26.
Air Europa will, as a result, become the first Spanish operator of the 737 Max. It was also the first in the country to take the 787.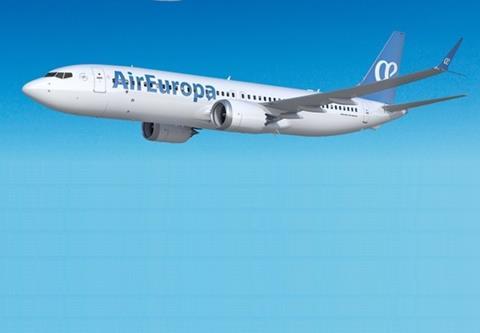 "It reinforces our strategy of unifying the fleet around the most modern, efficient, and sustainable models in the industry," says managing director Richard Clark.
Air Europa's fleet modernisation follows a tightening of its links with Iberia parent IAG, which has converted a loan into a 20% share of Air Europa.
IAG had previously intended a full acquisition of the carrier, but ran into difficulties with competition regulators.
AerCap says the additional aircraft for Air Europa will provide "improved cost-efficiencies" and support sustainability commitments.
"With this landmark transaction for the airline, we are delighted to reconfirm our belief in the Air Europa business and management team," says chief commercial officer Peter Anderson.