Swiss has ended a government-guaranteed bank loan three years early, having only ever used half of the proceeds available to the Lufthansa Group carrier.
The airline says the pandemic situation – which triggered the need to prop up liquidity – is "now more stable" and that "positive trends" have emerged which are allowing it to access necessary financing from capital markets.
Swiss says it has never needed to use more than half the amount granted under the bridging loan, which was 85%-guaranteed by the government, and terminated the agreement in May.
The company says it paid SFr60 million ($61 million) in fees and interest on the conditional loan which was due to run to 2025.
Swiss restructured last year, trimming its aircraft fleet and cutting some 1,700 positions.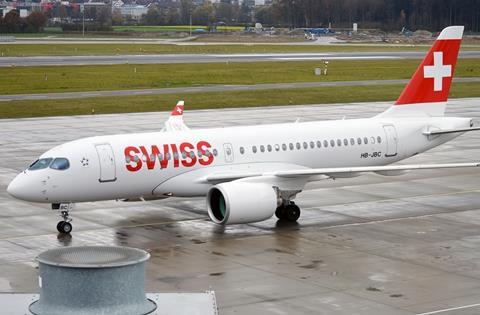 "After incurring cumulative losses of more than SFr1 billion in the past two years, we have now been able to return Swiss to financial stability, and generated a positive cash flow in the first quarter of this year," says chief financial officer Markus Binkert.
Parent company Lufthansa Group also provided support to Swiss during the pandemic through a SFr500 million loan.
Swiss chief executive Dieter Vranckx says the liquidity provided to the carrier enabled it to secure the jobs for a "large part" of its workforce and achieve a "sustainably competitive" cost structure.