UK long-haul start-up carrier Flypop has agreed to lease an Airbus A330-300, as part of a deal involving several aircraft with Irish-based lessor Avolon.
Flypop's management team has been attempting to establish a new carrier for services between the UK and India for several years – originally being named 'POP' for 'People Over Profit' with a view to launching in 2016.
Chief executive Navdip Singh Judge says Avolon has offered "the most competitive rate" and a "pipeline" of aircraft to 2023.
FlightGlobal understands that, along with the initial A330, two more aircraft are under consideration, potentially for introduction in 2022.
Judge says the lease agreement has supported an application for an air operator's certificate to the UK Civil Aviation Authority.
"[We] expect our first flights to commence by October," he adds.
UK government funding has been granted to the airline which has enabled the company to raise additional finance.
Flypop aims to operate to "second cities" in India, such as Amritsar, Kolkata, Pune and Cochin, as well as other Asian destinations including Islamabad, Lahore, Colombo and Kathmandu.
"Increased flight connectivity, especially on new routes, will create much needed economic benefits for both the UK and India," says Judge.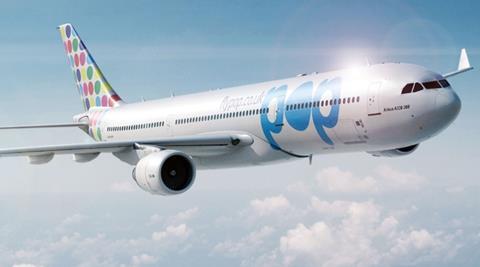 Avolon's senior vice-president of marketing for Europe, Middle East and Africa, Martyn Lewis, says the prospect of a new UK long-haul scheduled carrier is "exciting".
"We will work with Flypop on its future growth strategy and expansion of routes and provide further aircraft as required," he adds. "Flypop will commence operations with one aircraft and plans to add an extra aircraft every six months."
Flypop has built a management team with air transport specialists from various airline backgrounds, including Ryanair – among them Flypop's senior operations adviser Charlie Clifton.
"Incumbents have been badly wounded after 18 months without any revenue but plenty of costs and debt," he says. "Flypop, on the other hand, has avoided any exposure to the pandemic and consequently is in the unique and fortunate position to extract maximum advantage from the lower costs resulting from the crisis."