Two Qatar Airways Airbus A350-1000s have been dropped from the airline's backlog, the airframer's latest official figures reveal.
Airbus's backlog for January 2022 shows the number of Qatar A350-1000s on order has fallen from 42 to 40 – leaving total orders for the -1000 from all customers at 162.
It is unclear whether the reduction is related to the bitter legal dispute between the airframer and the Middle Eastern carrier over the deterioration of fuselage skin paint on the A350.
The spat led Airbus to cancel an order for 50 A321neos destined for Qatar Airways.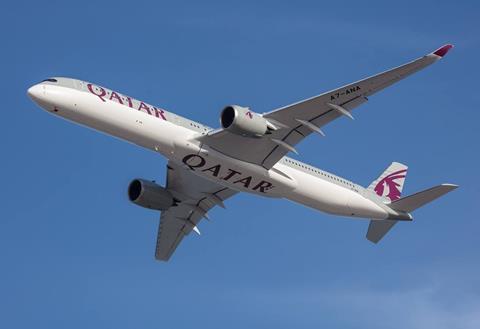 Qatar Airways has taken delivery of all 34 A350-900s on order, but has only taken 19 A350-1000s so far.
Airbus has already recorded the cancellation of the Qatar A321neos in its backlog figures for January.
It has listed new orders including an agreement with US lessor Azorra Aviation for 22 A220s, plus 14 A320neos and A321neos from two unidentified customers.
But the Qatar cancellations have pushed the airframer's overall net orders into deficit for the first month of the year.
Airbus delivered 30 aircraft in January, comprising four A350s, 24 A320neo-family jets and a pair of A220s.