Ukrainian carrier SkyUp Airlines has obtained the third-country approval required to open services to the UK.
The airline, which has been using a fleet of Boeing 737-700s and -800s, says it has obtained the approval from the UK regulators.
Operators which were previously able to access the UK under the European Union Aviation Safety Agency third-country scheme – known as Part-TCO – have had to re-apply for clearance since the UK's 'Brexit' withdrawal from the European Union.
UK recognition of Part-TCO, which remained in effect for two years after the withdrawal, is set to cease at the end of 2022.
SkyUp says its new UK clearance, needed from 2023, confirms compliance with aviation security and allows it to operate UK services – although it has not indicated when, or it, it will open routes.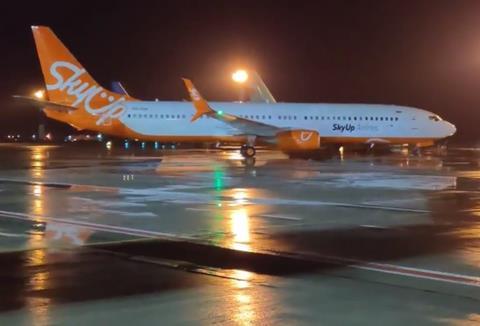 The airline's operations have been badly disrupted by the Ukrainian conflict which broke out early this year.
SkyUp says it has provided detailed information on operations, its fleet, flight history, safety management, manuals and procedures, and other aspects – including authenticity confirmation from Ukrainian regulators – to obtain its UK clearance.
It states that it can operate to the UK "without additional permits", and adds that it received a similar approval from Swiss authorities earlier this year enabling it to carry out wet-leasing services.