Cebu Pacific remained loss-making in 2022, as the impact from "unprecedented" economic challenges outweighed a passenger revenue recovery during the year.
The low-cost operator posted an operating loss of Ps11.4 billion ($210 million) for the year ended 31 December 2022, narrowing from the year-ago period.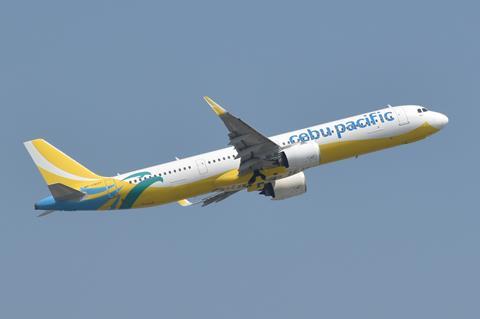 Cebu Pacific blamed the challenging economic environment for its loss, noting that jet fuel prices spiked in the year, while the Philippine Peso depreciated against the dollar.
In the full-year, the airline saw a three-fold jump in revenue, to Ps57 billion. The passenger travel segment led the "steep recovery", with revenues increasing five-fold year on year, to Ps35 billion.
Cebu Pacific saw the strongest rebound in the quarter ended 31 December 2022, with operating losses cut significantly on the back of a two-fold jump in revenue.
Airline chief Mike Szucs says: "Cebu Pacific is ready to move forward with optimism and confidence as we transition from recovery to growth mode. We remain committed to enabling everyone to fly and look forward to welcoming even more passengers onboard in the coming months."
The airline is expected to reach pre-pandemic capacity by end-March and will exceed it by June. It has also forecast a return to profitability in the Janaury-March quarter, ending the loss-making period driven by the pandemic.