Vietnam Airlines is warning that a full recovery is some way off, although travel is starting to pick up as the impact of the coronavirus pandemic dissipates.
In a Vietnamese language stock exchange filing, the carrier notes that it has accumulated losses in excess of D24.5 trillion ($1.1 billion) since the start of the pandemic.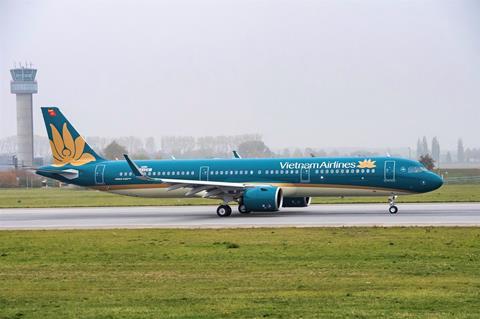 It warns, though, that the difficult times will continue until the end of 2023. Still, it hopes to turn a profit by the end of 2022.
Owing to international travel restrictions and outbreaks in Vietnam during 2021, the carrier says its "usual routine" was effectively stopped from March 2020 to March 2022.
Given its losses, the state-owned carrier was obliged to undertake a restructuring that runs from 2021 to 2025, with aim of improving cash flow.
This year and next Vietnam Airlines also aims to sell older aircraft, and conduct sale and leaseback transactions on aircraft it plans to retain.
In the 2023-24 timeframe, Vietnam Airlines also expects to conduct a share issue to raise equity. This follows a previous fund-raising exercise in September 2021 that raised D8 trillion.
The carrier also recently unloaded its residual 35% stake in Cambodia Angkor Air, generating proceeds of $35 million.
Cirium fleets data indicates that Vietnam Airlines has an in-service fleet of 87 aircraft, of which 42 are Airbus A321s and 16 A321neos. The carrier also operates 15 787s (11 -9s and four -10s) and 13 A350-900s. In addition, it has a single ATR 72-500.