Russian outsize freight specialist Volga-Dnepr is resuming commercial operations with its Antonov An-124 fleet, a month after suspending use of the type.
The operator temporarily withdrew the cargo transporter from service after the 13 November accident at Novosibirsk in which one of its An-124-100s suffered an uncontained engine failure and, following an emergency landing, a runway excursion.
Russian federal air transport regulator Rosaviatsia says the aircraft sustain substantial puncture damage to its left fuselage, as well as "a break in the cables of the engine-control system".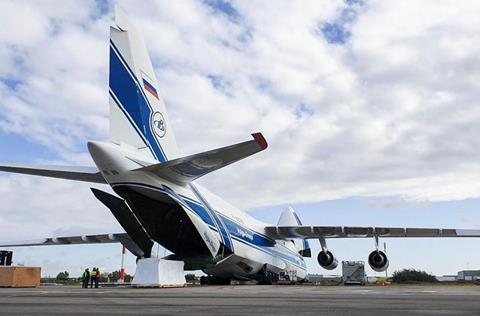 Volga-Dnepr says the initial aircraft to return to service resumed flights after completing a series of technical inspections and meeting the requirements of service bulletins.
"We will gradually introduce the rest of the aircraft, but only after the completion of all inspections," says chief commercial officer Konstantin Vekshin.
He expects the fleet to be active again around the end of this year, following a gradual re-introduction of the type.
Volga-Dnepr adds that it will discuss with customers the implementation of business activities and any adjustments.