Spanish operator Volotea is to be the first airline customer for a new Airbus flight-training school which has been inaugurated at Angouleme in France.
It will be managed by Airbus Flight Academy Europe, a wholly-owned subsidiary of the airframer.
Eleven cadet pilots from the school will be recruited by Volotea and be operating for the carrier from around April and May, once the final training is complete.
"We know the programme quality is of a very high standard, adapting perfectly to Volotea´s training philosophy," says the airline's chief, Carlos Munoz.
"Our company keeps on growing year after year our Airbus fleet, and we're going to be needing many more pilots."
Volotea operates a fleet of A320-family twinjets.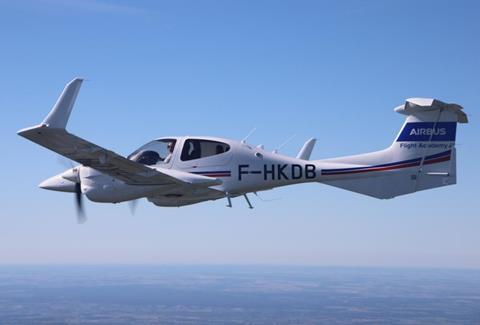 Eligible candidates for the Airbus programme are given around 750h of ground school and 200h of flight and simulator training.
Airbus says the training programme is intended to provide the "skills and mindset" for candidates to emerge as "operationally-ready" pilots.
The new campus – with a simulator hall, 14 classrooms, and briefing rooms – will give Airbus Flight Academy Europe the additional capacity to train up to 200 cadets at one time.
Airbus says the academy will look towards making its training fleet more environmentally-friendly with an order for Elixir Aircraft models to complement its Cirrus line-up.