Central European budget carrier Wizz Air is expecting a full-year net loss of €632-652 million ($690-711 million), but with a fourth-quarter operating loss ahead of previous guidance.
The airline, whose financial year closed on 31 March, predicts an operating loss for the last quarter of €190-210 million – citing a "stronger trading environment".
Chief executive Jozsef Varadi says that, despite the pandemic and the emergence of the Ukraine conflict, the airline is "starting to see recovery take shape" ahead of the summer season.
He says the "diversified and expanded" network of Wizz, combined with its modern fleet, will enable it to achieve the pre-crisis cost structure.
"In this industry lowest cost prevails," he adds.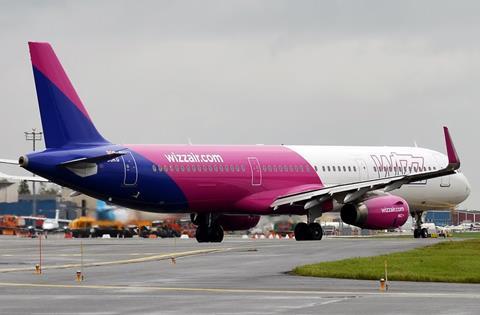 Varadi expects the airline to operate first-quarter capacity 30% above the same period in pre-crisis 2019, and increase this margin to 40% in the second quarter, the peak summer months of July-September.
"We have been encouraged by demand trends in recent weeks and, given the shorter booking horizon, expect the bookings for this summer to build significantly," he says.
Wizz Air has redistributed capacity away from routes affected by the Ukraine conflict, and new routes and frequencies will be introduced in summer.
It is hedging 36% of its planned fuel consumption over April-August with an average ceiling price of $1,130 per tonne, in order to reduce exposure to volatility in the market.
"Our focus [this year] will be on maximising revenue and returning to productivity levels seen during the [pre-pandemic] years, that should result in improved profitability during this period," the carrier states.