Wizz Air's latest fleet plan projects a slower overall increase in the number of aircraft, compared with the beginning of this year, but with a focus on expanding the A321neo rather than the A320neo fleet.
At the beginning of 2020, before the onset of the air transport crisis, the carrier had expected to reach a fleet of 295 aircraft at the end of fiscal 2026-27.
But Wizz Air's latest plan, contained in its newly-released half-year results, instead shows a fleet of 270 by this point.
The carrier had indicated it would receive nearly 50 A321neos in 2022-23 but a large number of them have been advanced to 2020-21 and 2021-22, the plan indicates. Wizz Air is in the process of starting up a new spin-off operation in Abu Dhabi.
Wizz Air's ramp-up of A321neo capacity remains largely unchanged from 2023 – including the planned arrival of the long-range A321XLRs – sand there is no alteration to the phase-out of older A321s.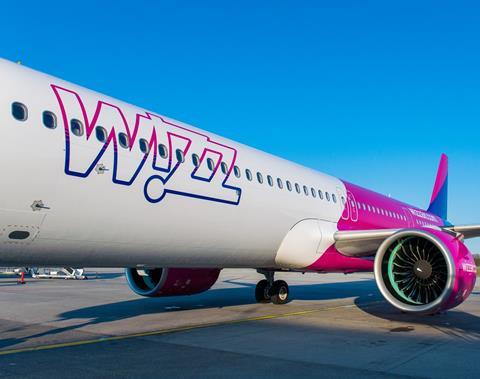 The airline indicates, however, that it will hold on to more of its older A320s for the next three or four years, before re-aligning with the phase-out plan from 2024-25.
Wizz will also introduce new A320neos at a slower rate, signalling that it will have 40 – rather than 65 – at the end of 2027.
Chief executive Jozsef Varadi, speaking during a half-year briefing, said: "It's becoming increasingly clear that the industry as a whole will not recover to [2019 levels] any time soon."
But he points out that Wizz has been expanding its network footprint while other operators have withdrawn.
Varadi says the carrier has been looking at options to increase its presence at airports including London Gatwick and believes that there is need for the system governing airport slots to be "fundamentally reviewed", adding that protecting incumbent carriers is "against the public interest".