US engineering company and aftermarket specialist Blackhawk Aerospace has received supplemental type certification for its XR upgrade kit on the Beechcraft King Air 350 series, and says it is closing in on a number of orders for the retrofit.
The modification kit offers a host of improvements over the baseline aircraft. Key among these are twin 1,200shp (850kW) Pratt & Whitney Canada PT6A-67A engines in place of the original 1,050shp PT6A-60As.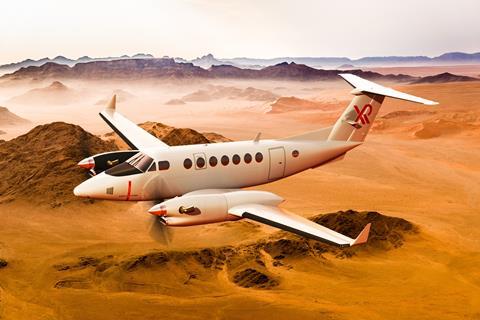 "The uprated engines not only increase the aircraft maximum cruise by up to 40kt [74km/h], the extra horsepower provides improved first, second, and third segment climb capability, greater take-off performance in high-and-hot conditions, and increased single-engine service ceilings," says Blackhawk.
The ability to climb from sea level to 35,000ft in 18min - more than twice the rate of the baseline 350 - is particularly important for military or governmental applications as it "significantly reduces exposure within hostile airspace", adds the Waco, Texas-based firm.
A five-blade composite propeller, from German manufacturer MT Propeller, replaces the baseline 350's Hartzell four-blade aluminum component which "reduces cabin and exterior noise by at least 5dB".
Other features include uprated landing gear, Raisbeck fully enclosed high floatation gear doors, a True Blue Power TB44 lithium-ion battery - delivering a 14kg (30lb) weight saving - and extra fuel tanks to boost the 350's range and endurance "to meet the most demanding mission requirements".
Blackhawk says the modification kit covers the 350 and 350i models, of which there are over 1,100 examples in service worldwide. The upgrade can be performed at one of Blackhawk's 80 owned or approved installation centres across the globe.
The company is in advanced discussions with several unnamed "governmental entities" with initial orders "expected to close in the third quarter," says Blackhawk.