Bombardier is set to more than double service centre capacity at its UK base at London Biggin Hill airport to accommodate its growing business jet fleet in Europe, in particular, the number of Global 7500s that are expected to arrive on the continent over the coming years.
The ultra-long-range flagship entered service in December 2018 and the first Europe-based example was handed over the following March to Austria's Laudamotion; Bombardier currently has three Global 7500s based in the region, it says.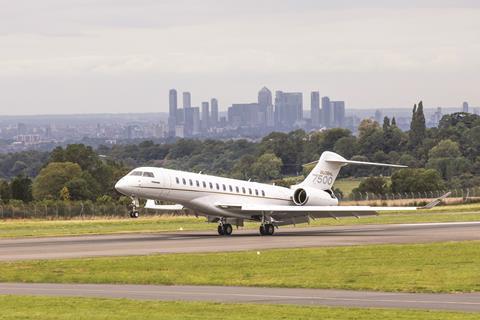 Bombardier performs a full range of MRO services across two facilities on the south side of Biggin Hill airport - the third largest business aviation hub in the UK by traffic movements - which have a combined area of 8,450sq m (91,000sq ft).
"This is not enough space to support our growing fleet in Europe – with demand for services coming from local owners and operators as well as transient traffic from other parts of the world," says Bombardier's vice-president and general manager, Jean-Christophe Gallagher. As a result, next month it will break ground on a 23,200sq m facility to replace the existing hangars when it opens in mid-2022.
Gallagher says the new site on the east of the airfield will house up to 14 Global 7500s at the same time, compared with only two in the current set-up.
"We have to be prepared for the arrival of many new Global 7500s in Europe over the next few years," he adds. Customers of the 7,700nm (14,200km)-range twinjet, which Gallagher calls "the pinnacle of business aviation", include Malta-based luxury charter company VistaJet, with an order for an undisclosed number. The all-Bombardier-fleet operator is scheduled to take delivery of its initial aircraft in the first quarter.
Europe is a "key region" for Bombardier, and isthe company's largest market outside North America, representing around 20% of its annual deliveries.
"We have a fleet of 640 Global, Challenger and Learjet-family aircraft in Europe today, out of a global tally of around 4,900 aircraft, and that number is continuing to climb year on year," says Gallagher.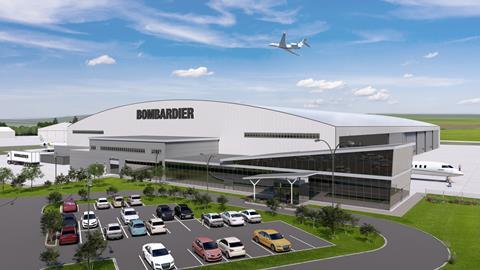 Biggin Hill houses Bombardier's only wholly owned service centre in Europe, with its other facility in Berlin Schonefeld co-owned by Lufthansa Technik.
Bombardier picked these two cities to house its MRO operations, Gallagher says, "because they are the most popular [European] destinations for our customers".
Globally, Bombardier operates nine service centres, including five in North America and two in Asia. The extension to its Singapore facility is scheduled for completion in April, while a new unit under construction at Miami-Opa Locka Executive airport will open in 2021.