Manufacturing and international travel restrictions imposed by the coronavirus pandemic resulted in a 50% slide in deliveries of Daher's TBM single-engined turboprop series in the first quarter, but the French airframer says there is "no shortage of interest" in the high-speed aircraft.
For the three months ended 31 March, Tarbes-headquartered Daher shipped four top-of-the-range TBM 940s and no baseline 910s. This compares with seven 910s in the first quarter of 2019 and one 930, the previous iteration of the 940.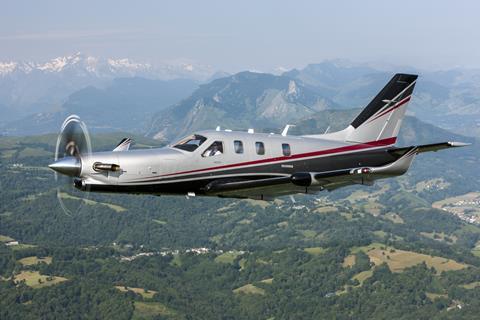 Daher's latest flagship entered service in June 2019, introducing to the platform an autothrottle and increased automation for the de-icing system.
The current version of the aircraft, which arrived in March, features a host of cabin enhancements and Garmin's autoland safety system. Daher says this functionality, which it brands as HomeSafe, can control and land the aircraft without human intervention in the event of pilot incapacitation. The system will be activated when it receives simultaneous European and US approvals, pegged for late June.
Nicolas Chabbert, senior vice-president for Daher's airplane business, says introduction of HomeSafe has boosted interest in the TBM 940, while demand in the 910 – which does not have the feature - is steady. "There has been no drop in interest for our products, nor any pressure on pricing so far," he notes.
The company had planned to deliver 50 aircraft in 2020 - two more than last year - but Chabbert expects output for the year could be more than 20% down.
"While our production line [in Tarbes] is gradually getting back to normal levels, we have lost so much time because of the manufacturing restrictions [surrounding social distancing]. We are never going to make that up," says Chabbert. He also anticipates "supply chain issues" later in the year, but does not elaborate.
Travel restrictions imposed by the pandemic also curtailed customer deliveries in the first quarter, Daher says, without specifying the number of units involved.
Meanwhile, shipments of Kodiak 100 single-engined turboprops dipped by only one unit in the first quarter to six, and Daher plans to deliver 15 of the utility type in 2020 – five fewer than last year. The Sandpoint, Idaho-based airframer was acquired by Daher in June 2019 and has now been fully integrated, says Chabbert.