Piper has secured European certification for the addition of a Garmin G1000 NXi integrated flightdeck and a fuel-injection engine in its PA-44 Seminole piston-twin.
The validation comes nearly four years after the Seminole became one of the first platforms to receive US certification for the NXi upgrade. "We received approval in the third quarter of 2016 and delivered the first Seminole to the University of North Dakota in November of that year," says Piper.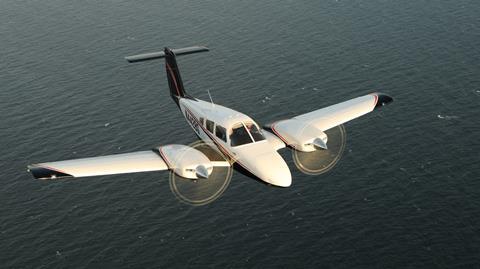 The NXi suite features wireless cockpit connectivity, enhanced situational awareness, visual approaches and map overlay on the horizontal situation indicator. NXi-equipped aircraft also meet automatic dependent surveillance – broadcast (ADS-B) Out requirements, which became compulsory in the USA on 1 January, and will be mandatory in Europe from 7 December.
US approval for the Lycoming L/IO-360-B1G6- fuel-injection engine, was awarded in December 2017 says Piper, and is available as an option.
Vero Beach, Florida-based Piper does not have a date for delivery of the first upgraded Seminoles in Europe. It does, however, expect the new features to "boost sales" of the 700nm (1,300km)-range aircraft on the continent, home to around a third of the 750-strong, global in-service fleet.