Business aviation exhibition EBACE 2020 has been cancelled as a consequence of the coronavirus situation, more than two months ahead of its scheduled opening date.
The event was due to take place in Geneva from 26-28 May.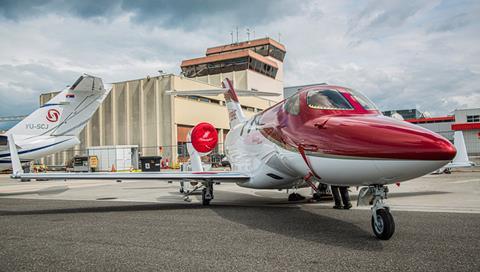 Both the European Business Aviation Association and the National Business Aviation Association have "closely monitored" the spread of the outbreak and, in particular, its effect on travel and large public gatherings.
Swiss authorities have tightened restrictions on large-scale events, banning gatherings of more than 100 people until the end of April, says the Swiss Federal Council.
The Council had previously restricted events to gatherings of 1,000 people until 15 March, but has since reviewed the measure.
"We view our participants as partners, whose health and well-being is our foremost concern," says NBAA president Ed Bolen.
The two co-sponsoring partners have agreed that exhibit and registration fees will be refunded in full.
"This is the hardest decision EBAA's management and board of governors have had to make in years," says EBAA secretary-general Athar Husain Khan said.
"But given the unprecedented circumstances, we had no other choice."
EBACE is a key event in the business aviation calendar, with some 50 aircraft on display and 400 exhibitors, drawing some 13,000 attendees.
Meanwhile, May's other big European show – the ILA Berlin event – is also doubtful. German federal and regional authorities have introduced several restrictions banning events of 1,000 people or more, however, these are of varying or unspecified duration.
"We are currently examining the consequences and are holding intensive discussions with our partners and organisers of guest events. As of now, the ILA Berlin is planned from May 13th – 17th, 2020," say the show's organisers.
The future of Chile's FIDAE air show is also uncertain: Santiago banned events of more than 500 people on Friday 13 March, but the show's organisers have yet to update its website. Indeed, at the time of writing, the website appeared to be down for maintenance.
This story has been updated with details on the ILA Berlin and FIDAE events.