Israel's Urban Aeronautics has appointed US company HyPoint to develop a hydrogen-based powerplant for its CityHawk electric vertical take-off and landing (eVTOL) aircraft, which is earmarked for service entry in 2028.
Now in its preliminary design phase, the six-seat model is based on the company's Cormorant unmanned air vehicle – developed by Urban Aeronautics' Tactical Robotics subsidiary. "We are creating with the CityHawk a highly efficient and sustainable aircraft that will revolutionise short-range air travel," says Urban Aeronautics chief executive Rafi Yoeli.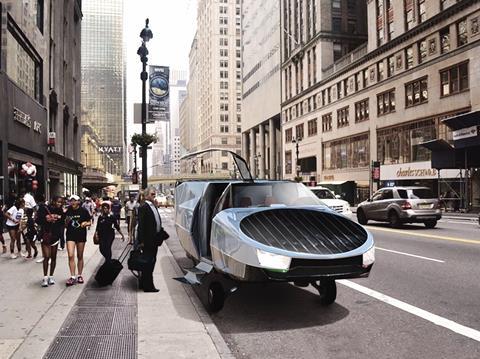 He says the aircraft has "85% commonality" with the 990shp (730kW) Safran Helicopter Engines Arriel 2N-powered Cormorant, which has logged around 300h of flight-testing since making its maiden sortie in 2015, "and is now ready for pre-ordering", says Yoeli.
Urban Aeronautics selected a hydrogen-based powertrain for the CityHawk, Yoeli says, due to its "tremendous environmental and efficiency benefits" over battery technology that is being adopted for many eVTOL designs. "Hydrogen is 100% clean, emitting just pure water, and in the future it will be produced using only wind and solar energy," says Yoeli. "A hydrogen-based system doesn't have a limited life cycle, generates zero toxic waste and packs up to four-times more energy than the best batteries," he adds.
The CityHawk's bespoke powertrain will consist of pressurised storage tanks, piping, fuel cell stacks, a cooling system, power conditioning unit, a pair of electric motors powering the aircraft's two encased rotors, and a small reserve battery.
"HyPoint's new turbo-air cooled fuel cells increase the lifespan of hydrogen powertrains from 5,000 to 20,000h, and only take a few minutes to refuel, representing a significant improvement over existing systems," says Yoeli.
The all-composite CityHawk is projected to deliver a top speed of 110kt (200km/h), a range of 110nm (204km) and an endurance of around 1h.
While a piloted CityHawk will be first to market, Yoeli says an autonomous version is also under review. The aircraft will be targeted at a range of markets including air taxi, corporate transport, emergency medical services and owner-flyer.
The programme has so far been funded internally, but Yoeli says Urban Aeronautics is now seeking external investment to help bring the CityHawk to market within the next eight years. He will not diclose the amount of funding needed. "I prefer not to quote numbers, I'll just say that it's on the same order of magnitude as any new twin-helicopter design," says Yoeli.
A larger version of the CityHawk is planned at a later date. Now in the conceptual design phase, the Falcon XP will be "roughly 30% larger" than its stablemate, says Yoeli, with seating for up to 14 passengers. "This programme is on a low burner right now so we can allocate full resources to the Cormorant and CityHawk," he adds.