Specialist corporate aircraft operator Comlux Aviation has disclosed that it is the launch customer for the Airbus ACJ TwoTwenty, opting to take two of the new business twinjet which is based on the A220-100.
It will take delivery of the initial aircraft as early as December 2022, and plans to offer it to charter customers from 2023.
Four other TwoTwenty aircraft have also been ordered by undisclosed customers, Airbus has revealed.
Comlux chief executive Richard Gaona says the aircraft is "creating a new segment" between traditional executive jets and large corporate-configured airliners, offering a wide cabin combined with "extremely" long range.
"You don't need any more to choose between speed, range and cabin comfort," he states.
Airbus Corporate Jets is intending the aircraft to operate on sectors with durations of up to 12.5h.
Gaona tells FlightGlobal the aircraft will be flexible, and have "very impressive performance", able to conduct a take-off run of 1,300m fully-fuelled.
Comlux's completion division, located in Indianapolis, will have exclusive contracts to outfit the first 15 ACJ TwoTwenty jets.
"We're working very closely to redefine the cabin," says Gaona, stating that the cabin will feature modernised in-flight entertainment, wi-fi communications, and cabin environmental systems, as well as electronically-dimmable windows and LED lighting.
"You can control almost everything with your [smartphone]," he adds.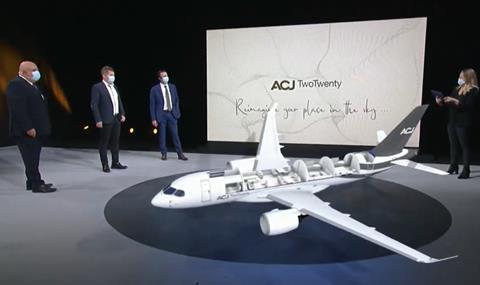 Additional fuel tanks will stretch the ACJ TwoTwenty's range to 5,650nm, enabling it to connect city pairs such as Beijing and Melbourne.
Gaona says the aircraft has "so many different options" for configuration, through an extensive cabin catalogue, that customers will be able to "customise it as they want".
"We looked at each and every detail of the cabin," he adds.
Comlux has selected a business and guest lounge, private entertainment zone, bathroom, and private suite. The aircraft will have large lie-flat seats, a king-size bed, and standing rain-shower.
Gaona says the ACJ TwoTwenty will benefit from the "second-to-none" economics of the A220-100, which is powered by Pratt & Whitney PW1500G engines.
"We are convinced the aircraft will be a winner in the business aviation market," he adds.
Comlux operates a diverse fleet ranging from smaller executive jets up to large corporate airliners including the Boeing 777-200LR and 767-200ER, the ACJ319, and Sukhoi Business Jet.