The business jet market is riding high. After four years of very modest annual delivery hikes, the sector in 2019 recorded its strongest output for a decade, and its highest year-on-year increase in shipments since the market boom of 2008.
This strong performance was largely due to the introduction across the sector of a slew of eagerly anticipated clean-sheet and reinvigorated models, resulting in a year-on-year delivery increase for all three aircraft classes - light, midsize and large-cabin.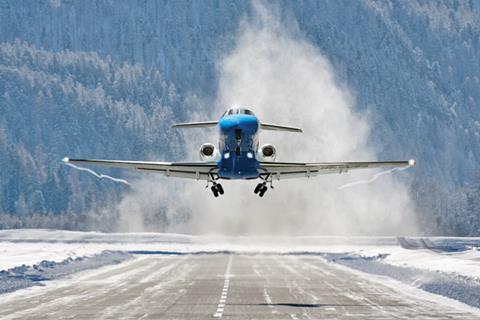 In its latest annual industry review, released on 20 February, the General Aviation Manufacturers Association (GAMA) records deliveries in 2019 of 809 business jets: a 106-unit, or 15%, increase from the previous year. The value of the shipments rose by $3 billion to $21 billion – a 17% rise.
GAMA singles out the light-jet sector as the strongest performer for the 12 months ended 31 December 2019, with a buoyant US market – which accounts for around 70% of the world's inventory in this class – helping to lift output for this category from 315 aircraft in 2018 to 372 last year. This was a rise of more than 18%, and marked the highest annual shipment tally for this segment since 2009, when 400 units were handed over.
Pilatus made the strongest gains in the category, with the report showing that output for the PC-24 more than doubled from 18 units in 2018 to 40 last year. The Swiss airframer re-opened the orderbook for the short take-off and landing aircraft in May 2019, having sold the first batch of 84 aircraft within 36h of starting to take commitments in 2014. Pilatus says it will transfer the final example from this order round during the third quarter – one of 50 PC-24s planned for delivery this year.
Cirrus performed well in 2019, with an output of 81 SF50 Vision Jets – nearly 30% more than the 63 examples delivered in 2018. Last year also marked the service entry of the second generation (G2) version of the SF50, which owes much of its appeal to its unique position as the only Part 23-approved single-engined jet on the market. Cirrus – developer of the SR family of piston singles – has orders for around 500 SF50s, and is planning to ship 100 units this year. These will from the second quarter include the first G2s equipped the Garmin's innovative new autoland safety system.
Cessna continues to dominate the light-jet sector, with four Citation-series models contributing 126 deliveries last year – more than one-third of the segment's output. This compared with 121 shipments in 2018. While output for its entry-level M2 and CJ3+ remained flat, at 34 and 37 units respectively, gains were made by the CJ4 and XLS+, reinforcing the value of the Textron Aviation-owned top-end light jets to the global marketplace.
The Phenom 300, produced by rival Embraer, retained its title as the most delivered light-business jet for the seventh year running, although shipments of the six-passenger type slipped by two units, to 51 aircraft in 2019, GAMA's report shows. Embraer is hoping to boost the appeal of its top-seller this year with the introduction in the second quarter of revamped version of the current enhanced E-model.
The Brazilian airframer's decision in 2018 to boost the value proposition of its portfolio through a wave of product enhancements is starting to bear fruit. After seven years of falling output, Phenom 100 shipments remained stable in 2019 at 11 units, while shipments of the Legacy 450 nudged up by one example, to 15.
This tactic has also impacted its midsize Legacy 500, which recorded a two-unit hike last year to 11 aircraft, according to GAMA's report. The introduction in 2019 of the midsize Praetor 500 and super-midsize 600 contributed three and 13 units respectively to Embraer's 2019 output of 109 business jets. Described by the company as "the most disruptive and technologically advanced jets in the midsize segment", the Praetors have already secured "healthy sales", it says, including an undisclosed, but sizeable order from fractional ownership company FlexJet.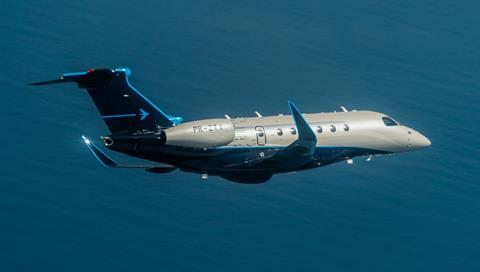 MIDSIZE MOVEMENT
Praetor demand contributed to a healthy overall performance for the midsize sector in 2019. GAMA records deliveries of 197 aircraft – an 18-unit increase on the previous year and the segment's strongest output for 11 years.
Cessna's Citation Latitude was the most delivered midsize jet for the fourth year running – thanks largely to a 2015 order from fractional ownership company NetJets for 175 examples – and the strongest performer in the seven-strong Citation family.
A one-unit increase took annual output for the eight-seat jet to 58 aircraft. The Sovereign+ recorded a modest two-unit rise to eight aircraft, as demand for the legacy Citation held firm, while the final X+ was handed over in the first quarter of 2019. The high-speed business jet programme was cancelled in 2018 after a 22-year run, with the airframer blaming persistent low delivery output for the decision.
The company has hinted at plans to revamp its legacy Citations, including the light-jet family, with Scott Donnelly, chief executive of parent company Textron, saying during an earnings call in February: "I think there's clearly opportunity to do some upgrades and refreshes".
Textron expects its new flagship Longitude to account for the bulk of its midsize-class deliveries going forward. The super-midsize model entered service last October, and GAMA records deliveries of 13 aircraft during the fourth quarter. This output included the first example to NetJets.
The super-midsize newcomers – Longitude and Praetor 600 – are now snapping at the heels of the sector leader, Bombardier's Challenger 350. While the 10-seat twin was the most-delivered super-midsize jet for the sixth year running, output slid by four units last year, to 56 aircraft.
The Canadian company is widely believed to be considering a major revamp of the six-year-old model, to fend of its latest rivals.
Gulfstream has also hinted at plans to overhaul its similar-sized G280, which was introduced eight years ago. GAMA records a four-unit increase in shipments in 2019 for the airframer's entry-level offering, to 33 aircraft.
HIGH-END HOPES
Gulfstream's focus will continue for the time being on the top-end of the business jet market, which had a bullish 2019.
GAMA data shows deliveries climbed by 31 units during the report period, to 240 large-cabin, long-range and VIP airliner-category aircraft – the largest output for the sector since 2015.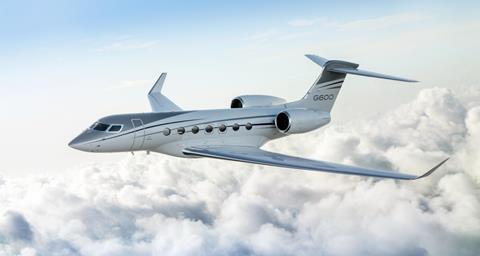 Gulfstream led the class, recording deliveries of 114 aircraft, compared with 92 in 2018, with output up across it product line. The superwide-cabin G600, which entered service last August, contributed seven units to Gulfstream's 2019 tally, while deliveries of its G500 clean-sheet stablemate, introduced a year earlier, accounted for 19 aircraft – up from 10 in 2018.
Shipments are predicted to climb in 2020 to 150 aircraft, as production of the G500 and G600 accelerates.
Bombardier is also set to boost its high-end business jet output this year, on the back of new aircraft programmes. The airframer had a modest year in 2019, recording shipments of 74 Challenger 650ERs and Global-series aircraft – including the first Global 6500 – against 65 units in 2018.
Global 7500 deliveries are expected to accelerate to around 40 aircraft in 2020 – up from only six for its 7,700nm (14,200km)-range flagship in 2019 – with Bombardier blaming a "lag" in aircraft completions for the six-unit shipment shortfall for the year.
Production of the Global 6500 will also accelerate in 2020, when it will be joined in service by its recently certificated and smaller stablemate, the 5500. The pair were launched in May 2018 as longer-range versions of the Global 5000 and 6000, featuring all-new Rolls-Royce Pearl 15 engines, revamped interiors and new wings designed by Mitsubishi Heavy Industries.
Dassault is hoping its in-development, superwide-cabin 6X – set for service entry in 2020 – will have a positive effect on its Falcon output, following another feeble year. Fierce competition in the large-cabin sector saw deliveries of its twin-engined 2000LXS/S and 900LX, 7X and 8X trijets fall to 40 aircraft, compared with 41 in 2018.
Airbus recorded it strongest delivery performance since 2013 thanks to the arrival of the long-awaited ACJneo family. Six examples of the re-engined narrowbody were shipped green last year – four ACJ320neos and a pair of ACJ319neos. This compares with a single baseline ACJ320 in 2018.
The first outfitted aircraft, an ACJ320neo, will be handed over to its UK owner Acropolis Aviation during the first quarter.
Despite continued fragile demand for VIP airliners from traditional markets such as the Middle East, Russia and China, sales continue to trickle through. Airbus's ACJ orderbook totals 15 ACJ319/320neos and four widebody ACJ350s.
Boeing has increased its focus on the twin-aisle market as the crisis surrounding the troubled 737 Max programme rumbles on.
GAMA records two green deliveries for Boeing in 2019 – both BBJ 787-9s. This compared with six shipments the previous year – two BBJ 777-300ER widebodies, a pair of 737-derived BBJs, and its first two BBJ 737 Max 8s.
Boeing says interest is growing in its BBJ 777X family – launched in December 2018 – with a first order expected this year.