Vista Global, parent of charter operators VistaJet and XO, is back at NBAA in bullish mood thanks to its record performance in the USA during the third quarter.
Leona Qi, president of VistaJet USA, says the country is the group's largest market, representing over 60% of its business. "It's our strongest and fastest growing region and the outlook remains incredibly strong," Qi says.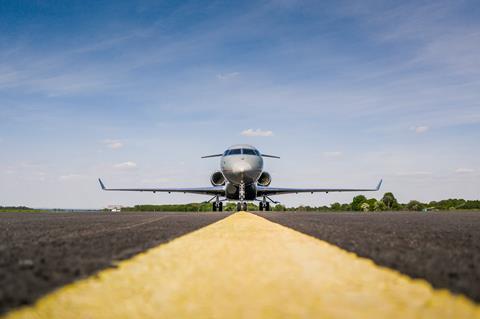 Charter sales in the USA for the nine months ended 30 September were up 185% year on year, with VistaJet recording the highest number of new client memberships in its history during the period.
In the third quarter alone, the region contributed 64% of the group's total hours sold, and 70% of hours sold in the quarter were attributable to new customers, Qi says. "We are accelerating new client memberships to the highest number in its history."
Many of these high-net-worth clients sampled private aviation for the first time during the Covid-19 pandemic, Qi says, and have not returned to airline travel.
"They moved away from the [commercial] carriers in large numbers for a variety of reasons – poor schedules, unreliable service or because they wanted to travel safely with their families during the pandemic," she says.
Vista Global entered the US market in 2015 with a clutch of Bombardier business jets. It has since expanded its footprint in the country through the acquisition of a host business aviation companies including Apollo Jets, Jet Edge, Redwing Aviation, Talon Air and XO Jet.
The company has a worldwide fleet of over 360 business aircraft, of which around half are registered in the USA.
Of these, around 100 are midsize, super-midsize, large-cabin and long-range-category VistaJet-branded aircraft deployed for the luxury membership-based charter programme.
The line-up also consists of refurbished Bombardier Challenger-series jets and Gulfstream 450s from the Jet Edge fleet. Another 40-plus aircraft from the Jet Edge line-up will be upgraded and painted in VistaJet's iconic silver and red livery over the coming months.
"We hope to have them all completed and installed in the fleet by next June," says Qi.
Meanwhile, VistaJet is preparing to take delivery next month of its 15th of 30 Bombardier Global 7500s. The remaining units – some of which may be converted to the in-development Global 8000 – will be added to the fleet over the next three years, says Qi.
Meanwhile, Vista Global is confident it will achieve carbon neutrality by 2025. Qi says the group offers a carbon-offsetting programme – which has a take-up rate of around 85% – and also gives its customers the option of travelling with different concentrations of sustainable aviation fuel (SAF) in place of regular Jet-A.
While Qi concedes "it is a lot more expensive to fly with SAF", leading to modest take-up from VistaJet customers, she expects this will increase as production of the fuel becomes more widespread and the cost falls.