Italian airframer Tecnam has sold the first P2012 Traveller in a special-mission configuration following an order for a single unit from with Austrian engineering and surveying company Airborne Hydro Mapping (AHM)
Delivery to the Innsbruck-headquarterd firm is scheduled for July, when the high-wing, piston-twin will join AHM's P2006T for aerial surveying and mapping missions.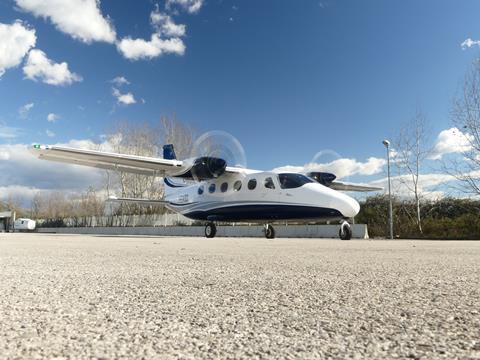 Tecnam says it designed the P2012 as a multi-mission aircraft in the hope of emulating the "great success" of its smaller P2006T, for which over 100 examples have been sold to date in a special-mission role.
As an example, the P2012's underfloor cables have been positioned to the side in order to house two large hatches that can accommodate "the majority of sensors, cameras and mission equipment available worldwide", says Tecnam.
As with the P2006TSMP, the Lycoming TEO-540-C1A-powered P2012 is available in several configurations and options, with the standard version providing multiple power sockets and a quick-change interior for passenger transport.
P2012 customers have largely been drawn to date from commercial operators, with US regional airline Cape Air the biggest client with an order for over 80 examples.
The Hyannis-based company is also the launch customer for the 11-seat aircraft, taking delivery of the first example in September 2019. "It has since added another three aircraft and four more P2012s will be handed over in February," says Tecnam.
The company delivered eight P2012s in 2019s and plans to raise production at its Capua headquarters to 25 aircraft this year.