Lockheed Martin plans to buy the hypersonic technology portfolio of Huntsville, Alabama-based Integration Innovation.
The acquisition is scheduled to close within 30 days, pending customary closing conditions, Lockheed said on 9 October.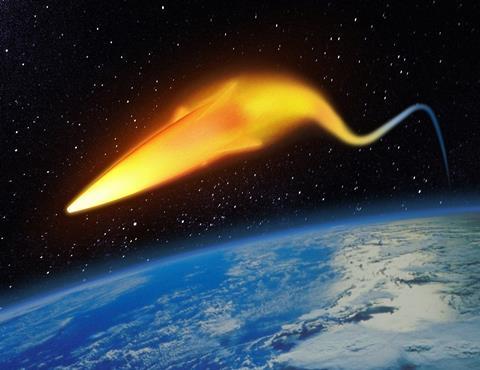 Integration Innovation is a software and systems engineering firm that works within a number of military disciplines. Those include hypersonic technologies, cybersecurity, command and control, intelligence surveillance and reconnaissance, training and support, and corrosion protection.
In the realm of hypersonic technologies, Integration Innovation says it specialises in thermal protection systems, propulsion, missile-seeker windows and domes, ground test and evaluation facilities and services, flight-test services, weather evaluation, modelling and simulation, and software development.
Lockheed is pursuing a number of hypersonic missile programmes for the US Department of Defense. It has been granted more hypersonic development contracts than any aerospace company. Its projects include the AGM-183A Air-launched Rapid Response Weapon, a boost-glide missile that is the US Air Force's leading hypersonic weapons programme.
However, given the nascent state of the hypersonic missile industry, aerospace companies have been hard pressed to find skilled engineers and other staff to support development efforts. It appears the acquisition of Integration Innovation will add a significant, but undisclosed number of employees to Lockheed's ranks.
"This business combination not only reinforces our commitment to their missions, but also expands our portfolio in a strategic way," says Eric Scherff, Lockheed vice-president of hypersonic strike programmes. "Combining [Integration Innovation's] talent and domain expertise with our shared vision for hypersonic strike will expand how we think about and deliver this critical capability to the war fighter across domains."