A US airpower think tank has listed a set of priorities for the US Air Force (USAF) to consider as it embarks on the development of unmanned combat aircraft.
In a 40-page policy paper, Heather Penney of the Mitchell institute proposes that for unmanned collaborative combat aircraft (CCA) to be effective in future great power wars, it is essential that active military personnel be involved in the early stages of CCA development.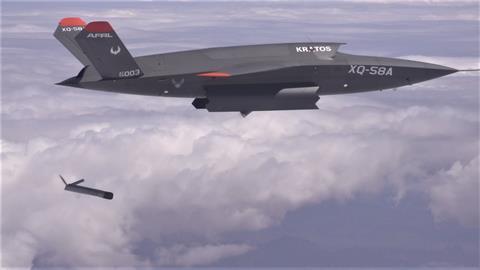 Penney notes that the development of CCA capabilities is imperative given the present combat capacity of USAF in a prospective war against China, which would inevitably result in significant attrition.
CCAs promise to give commanders a deeper reserve and enable complex operations against enemy defences.
"While this approach has great potential, current CCA development efforts primarily focus on mission tasks," writes Penney, a former fighter pilot.
"This is problematic because the effectiveness of CCA in combat will be primarily driven by how well they team with humans, not just capabilities such as weapons and sensors. From the start, highly experienced warfighters must be integrated with skilled technologists to structure teaming dynamics, using human flying formations as models."
She lists five imperatives to get CCA development right: optimise human/CCA teams based on strengths, include operators in CCA development, ensure operators can trust CCA autonomy, ensure operators can maintain control of CCA in dynamic environments, and ensure that human workloads related to CCA remain manageable.
While progress is being made in CCA-fields such as autonomous flight controls, flight safety, situational awareness, tactical decision making, sensing, and manoeuvring, Penney suggests that the human element needs more emphasis.
"What is lagging, or even absent, is warfighter involvement in the process to determine how CCA should interact with humans and what information humans need for those interactions to be effective in real-world operations."
Penney's paper indicates that there is a degree of scepticism in the military about combat operations with unmanned aircraft. While the concept and potential benefits of CCA are well understood, the nuanced aspects of how they will actually team with humans are not.
"Warfighters may enthusiastically embrace the concept of and requirement for CCA to ensure mission success, but it is another thing entirely for them to accept that these promised technologies are real and will perform as advertised," she writes.
She notes a degree of scepticism about CCA in the military, and quotes an unnamed air force operator as saying of CCA that as a "real capability that I could go to war with, they're not much farther along than PowerPoint."