Rolls-Royce is continuing its divestment efforts with the decision to sell its stake in AirTanker Holdings to an investment firm.
AirTanker is the consortium which owns Airbus A330-200 multi-role tanker transports used by the Royal Air Force under a ministry of defence contract.
Rolls-Royce has agreed to sell its 23.1% shareholding to Equitix Investment Management, and consortium partner Babcock has similarly opted to sell its own 15.4% stake to the same firm.
The fleet is operated by AirTanker Services and Rolls-Royce says it will "continue to be" a 23.5% shareholder in this company.
It adds that it will continue providing maintenance to the Rolls-Royce Trent 700 engines that power the A330 tanker fleet.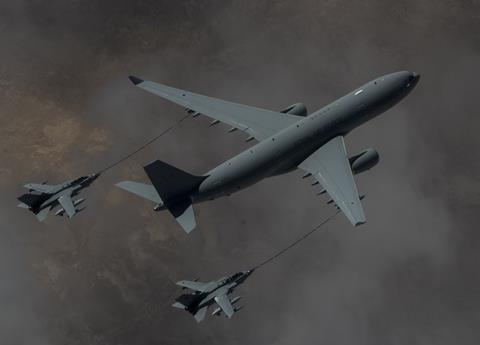 Rolls-Royce has been divesting operations as part of a strategy to raise at least £2 billion from disposals.
President of its defence division Tom Bell says the sale of the AirTanker Holdings stake is "another important step" towards achieving this target.
Rolls-Royce will generate cash proceeds of £189 million from the sale which it expects to close by the end of the first quarter next year.
"Proceeds will be used to reduce net debt," says the company.
AirTanker Holdings also includes partners Airbus and Thales and its fleet comprises 14 of the A330 MRTTs.
Rolls-Royce says the remaining AirTanker shareholders will have pre-emption rights over the shares and loan notes.
Aerospace and defence company Babcock says it will raise £126 million in cash from the divestment of its share in AirTanker Holdings.
Babcock has, like Rolls-Royce, been engaged in a divestment programme to reduce debt, with the intention of generating £400 million. Chief executive David Lockwood says the AirTanker stake sale is its third disposal under the scheme.
"We are pleased to continue to maintain an interest in AirTanker through our work with AirTanker Services," he adds.