Tunisia is to acquire four Cessna Grand Caravan EX turboprops for special mission duties.
"The fleet will aid the Tunisian air force in intelligence, surveillance and reconnaissance operations in the country," says Bob Gibbs, vice-president, Special Mission Sales for Textron Aviation.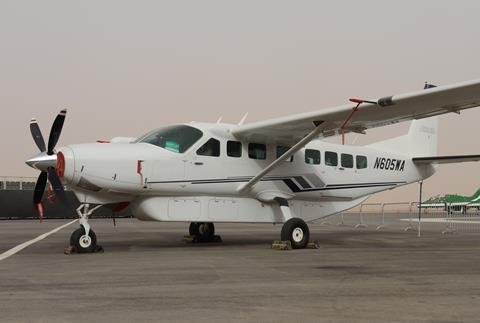 "ATI Engineering Services will modify and equip the aircraft with an electro-optical/infrared sensor, operator console, tactical radio, video data link and night vision compatible lighting," the Cessna parent company says.
The deal has been conducted via a US government initiative to equip multiple African nations with a combined 16 Grand Caravan EX aircraft via the Foreign Military Sales process. Past recipients are Cameroon, Chad, Kenya, Mali, Mauritania, Niger, Rwanda and Uganda, Textron says.
"US Africa Command intent is to field multiple iterations of this configuration throughout Africa, and to streamline logistics support and enhance partner nation interoperability," it adds.