The US Army and US Air Force (USAF) have signed an agreement to jointly develop a battlefield communications network, called Combined Joint All-Domain Command and Control (CJADC2).
The military branches agreed to a two-year development collaboration, it was announced on 1 October.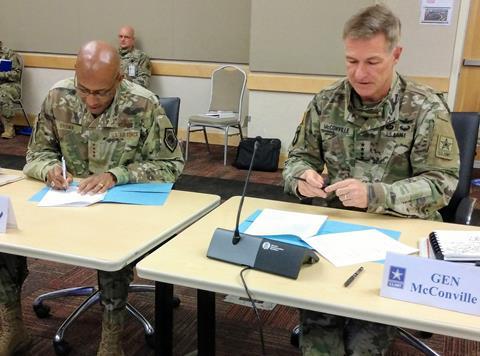 The US Department of Defense (DoD) wants all of the services to share information across a battlefield communications network, conceptually named Joint All-Domain Command and Control (JADC2), enabling faster collaboration between a wide variety of military personnel and equipment, including soldiers, tanks, artillery, submarines, ships, satellites, aircraft and missiles.
In simplified terms, the Pentagon wants to quickly overwhelm an adversary by hitting them with the full force of all the services simultaneously. The DoD also wants to shorten the time between spotting a target and striking through intra-service collaboration.
"The core challenges of the future fight are speed and scale," says Lieutenant General Charles Flynn, US Army deputy chief of staff of the G-3/5/7, which is responsible for operations, plans and training. "The future fight will be much faster, and the joint force will have more sensors and more shooters. [It will] be more widely distributed than ever before."
The services had each been developing proprietary systems in the hopes that their standard would prevail across the entire US military.
The new collaboration agreement means the US Army's Project Convergence development effort will be combined with the USAF's Advanced Battlefield Management System. The two services plan to train, exercise and conduct demonstrations with the combined system going forward.
The US Navy (USN) and US Marine Corps (USMC) have been less public about their plans to develop a JADC2 network, but have outlined their thinking through ideas such as the Distributed Maritime Operations concept and the Expeditionary Advanced Base Operations concept. With the US Army and USAF now partnered on CJADC2, there is more pressure on the USN and USMC to join the effort.
The US Army and USAF say their top leaders met on 29 September to plan the first steps of the partnership.
"During the day-long meeting at the Pentagon, army chief of staff Gen James C McConville and air force chief of staff Gen Charles Q Brown Jr discussed how to best combine each service's assets to achieve greater synchronisation," say the services. "Both service chiefs agreed to establish CJADC2 at the most 'basic levels' by defining mutual standards for data sharing and service interfacing in an agreement that will run until the end of fiscal year 2022."
US Army Futures Command and the USAF's office of strategy, integration and requirements, called A-5, will lead the effort, the services say.