Boeing remains confident on the current timeline of its 777X, but has seemingly ruled out an imminent launch of a freighter variant, despite "advanced discussions" with potential customers.
In a pre-Dubai air show briefing today, Ihssane Mounir, senior vice-president for commercial sales and marketing, said Boeing was on course to hand over the initial example in late 2023.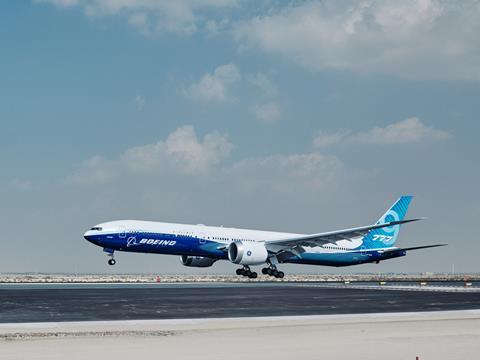 Boeing's four-aircraft 777X test fleet has now accumulated 1,700h across 600 flights and is "doing well – we are seeing it performing as predicted", says Mounir.
However, he offers no clarity on the status or timeline for the smaller but longer-range -8.
While the -8 was always seen as the second member of the widebody's family, it may now be pushed behind a freighter variant, should Boeing launch that product.
Mounir says the airframer is in "pretty advanced discussions with a number of customers" regarding the freighter, which "looks very good from a design and requirements standpoint".
However, he says Boeing is "not yet at the point" where it is ready to launch the programme.
Nonetheless, that point may need to arrive soon if Boeing wants to continue building factory freighters. ICAO emissions regulations due to come into force in 2027 will mean an end to production of the 767F and current 777F if the manufacturer cannot secure exemptions.
Mounir says there is sufficient time to develop a freighter variant of the 777X, but that it is also "building contingency plans" and conducting "other product evaluations" for the cargo market.
Additionally, the airframer is analysing the potential to launch a 777 conversion programme under its Boeing Global Services business, says the unit's chief executive Ted Colbert.
"We are talking to several customers about that opportunity," he states. "We have not made a decision yet but we are working through all the economics of that programme."
As with current conversion efforts for the 737, Boeing would seek a partner for the project, Colbert adds.
Israel Aerospace Industries and Mammoth Freighters are already working on separate freighter conversion projects for the 777.