Air Senegal is to acquire five Airbus A220-300s under a lease agreement with a division of Macquarie AirFinance.
Deliveries of the twinjets – powered by Pratt & Whitney PW1500G engines – is set to begin in 2023, under the deal disclosed during the Dubai air show.
The African carrier had previously unveiled an agreement at the previous Dubai show in 2019 through which it planned to take eight A220s.
Macquarie has reduced its orders for the A220-300 from 40 aircraft – prior to Bombardier's sale of the then-CSeries programme to Airbus – to 29.
The Air Senegal aircraft will come from this 29-aircraft backlog, the lessor states.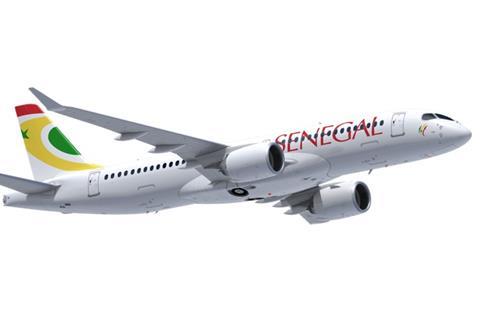 Air Senegal chief Ibrahima Kane says: "Addition of this aircraft will be a game-changer in the West African landscape.
"It will provide our customers with an exceptional experience in terms of comfort and connectivity. This new aircraft generation will also create substantial maintenance and fuel savings and improve our financial results."
Air Senegal will use the twinjets to open services from its Dakar base to European and African regional cities.
Relatively young, having started commercial services in May 2018, the carrier operates Airbus A330-900s, A321s and A319s, plus a pair of ATR 72-600s.