Boeing is adding three more freighter conversion lines including one at London Gatwick airport, the first business at which will be from Icelease after it signed a commitment for 11 737-800 converted freighters.
The order for the 737-800BCFs, announced today at the Dubai air show, marks the lessor's first converted freight order with Boeing. Icelease recently expanded its cooperation with Corrum Capital through a joint venture called Carolus Cargo Leasing.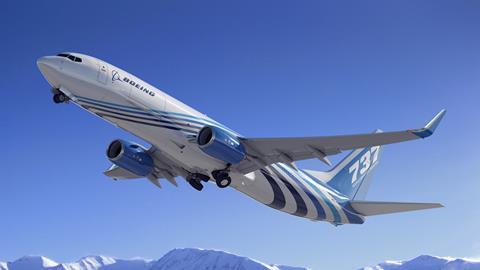 The lessor will also be the launch customer at the new freighter conversion line that Boeing is opening at its London Gatwick MRO facility. Boeing will open the conversion line in 2022.
Icelease senior partner Magnus Stephenson says: "We are confident in the quality and proven record of Boeing's 737-800 converted freighter. We look forward to bringing the freighter in to our fleet to serve our growing global customer base operating domestic and short-haul routes."
Alongside the new Gatwick facility, Boeing is also adding two conversion lines in Canada in 2023 at KF Aerospace MRO in Kelowna, British Columbia.
Director of Boeing Converted Freighters Jens Steinhagen says: "Building a diverse and global network of conversion facilities is critical to supporting our customers' growth and meeting regional demand."
Boeing has already outlined plans to create additional 737-800BCF conversion capacity at several sites, including a third conversion line at Guangzhou Aircraft Maintenance Engineering (GAMECO), and two conversion lines in 2022 with Cooperativa Autogestionaria de Servicios Aeroindustriales (COOPESA) in Costa Rica.
Ted Colbert, chief executive of Boeing Global Services, the division responsible for conversion activity, said at pre-show briefing that the airframer is continually monitoring the market.
"We are in close contact with freight and cargo customers around the world. We keep a track of their views on how strongly the e-commerce market is going to endure post-pandemic. All the forecasts we see say it's going to continue to be really strong.
"We are being careful with our investment and we are being really flexible and agile with our overall approach."