Middle Eastern carrier Emirates is signing up for Israel Aerospace Industries' Boeing 777-300ER freighter conversion programme, with a commitment to modify four aircraft.
It is part of a $1 billion plan to increase the capacity of its SkyCargo operation, which will include the acquisition of another pair of 777 freighters directly from Boeing.
The landmark conversion agreement follows the historic diplomatic recognition pact between Israel and the United Arab Emirates signed last year.
Israel Aerospace Industries has been developing the 777-300ERSF freighter modification programme in co-operation with lessor GECAS.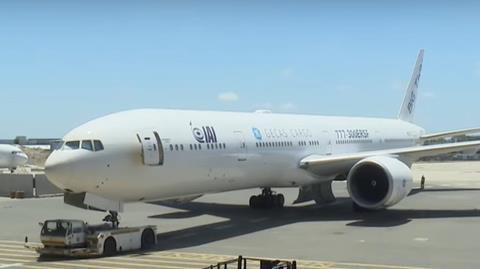 The Emirates 777-300ERs will be inducted next year and the converted freighters will be delivered back to the carrier in 2023 and 2024.
Conversion of each aircraft is expected to take five months.
"The last two years have put the spotlight on the importance of supply-chain connectivity and the availability of air cargo capacity to global communities and economies," says Emirates Group chief Sheikh Ahmed bin Saeed Al Maktoum.
Israel Aerospace Industries chief Boaz Levy adds: "Emirates' decision to select IAI for the conversion of its passenger aircraft to cargo configuration is a testament to IAI's professional capabilities and IAI's long-standing international recognition in the field."
Emirates unveiled the agreement for the conversions, and the extra pair of 777Fs, during the Dubai air show on 15 November. The jets will be delivered in April and June next year.
SkyCargo already has 10 777Fs and it also utilises the hold capacity of Emirates' fleet of passenger jets.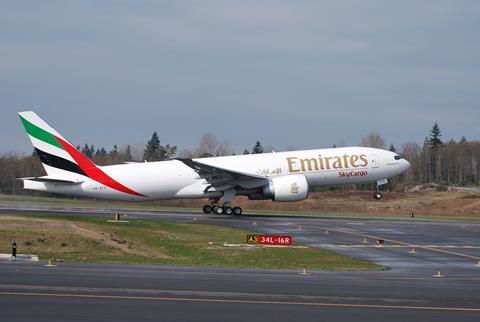 Boeing had previously listed the order for the two additional 777Fs as being assigned to an undisclosed customer. It values the agreement at over $700 million at catalogue prices.
Al-Maktoum says the company is investing $1 billion to expand its freighter capacity.
"This underscores our commitment to supporting our customers' requirements, and reflects our confidence in our future growth and status as one of the largest airline cargo carriers in the world," he adds.
All 777Fs and 777-300ERs are fitted with General Electric GE90 engines.
Boeing has recorded strong interest in 777Fs this year, with orders for 38, while the total number of orders has exceeded 300 since the programme was launched.
Emirates is a key 777 customer, the largest operator of the family in the world.
Boeing senior vice-president of commercial sales and marketing Ihssane Mounir says Emirates' performance is a "testament" to the 777's "market-leading efficiency, improved sustainability and incredible range".