Canadian completions specialist Flying Colours is seeing renewed interest in its ExecLiner conversion of the CRJ200 – the 50-seat regional jet that was last produced by Bombardier in 2006 – and says it is close to securing a customer for three examples.
Flying Colours, which is exhibiting at EBACE, has converted 30 former airline CRJ200s into both VIP aircraft and corporate shuttles, but its last delivery was seven years ago, says vice-president Eric Gillespie.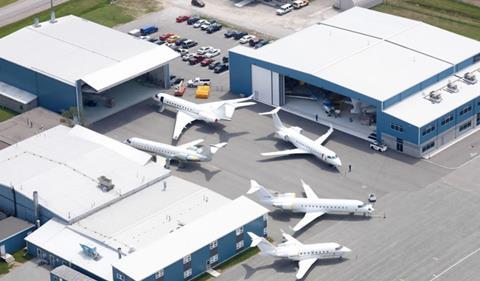 Bombardier also produced its own Challenger 850, a production-line business jet based on the CRJ200, delivering around 70 over 20 years from the mid-1990s.
The market for repurposed regional jets, both new and used – Embraer also offers the Legacy 650 and Lineage 1000 – has been sluggish to non-existent in recent years, as manufacturers have pushed latest-generation models, creating plenty of replacement aircraft activity.
However, Gillespie says a shortage of used aircraft and long lead times for new jets, with the charter market in particular booming during the pandemic, has spurred demand for alternatives.
Many operators and owners are looking for Bombardier Challenger 650-sized aircraft for domestic US travel, says Gillespie.
While not providing the 4,000nm (7,400km) range of a Challenger 650, the ExecLiner can fly for around 2,300nm.
This can be raised to 3,000nm with auxiliary fuel tanks that Flying Colours can install under a supplemental type certificate.
"With inventory on the used side drying up, things have really picked up in the past six months," he says. "We are knocking on lots of doors."
The potential first customer has earmarked three CRJ200 conversions: one a 29-seat "hybrid shuttle", fitted with executive seats and a separate VIP section, comprising four club seats, a divan and a half-club area.
The others are "full VIP". None of these aircraft are fitted with the auxiliary fuel tanks.
Gillespie says there are at least two other interested buyers for the conversion programme.
Although around two-thirds of Flying Colours maintenance and completions business comes from North America, Gillespie says the company also targets Europe and the Middle East for conversion contracts, and has a sales representative in the region.
The Peterborough, Ontario-based firm has a site in St Louis in the USA, as well as an in-plant facility at Bombardier's service centre in Singapore.