Safran is confident that 1,700 CFM International Leap-series narrowbody engines can be delivered in 2023 – a 600-unit increase on 2022 – despite ongoing supply chain disruption.
Last year, CFM shipped 1,136 Leap powerplants, up 34% on 2021's 845 engines. But the Safran-GE Aerospace joint venture expects to raise output further, by around 50%, over the course of 2023 to match growing demand from Airbus and Boeing.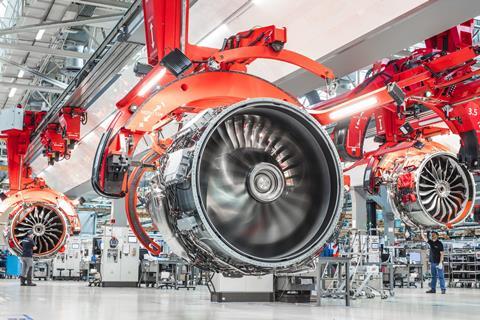 However, supply chain constraints in 2022 caused CFM – and rival Pratt & Whitney – to miss delivery targets to the airframers. Consequently, Airbus failed to reach its delivery goal for the year.
Nonetheless, Safran believes its 2023 output forecast is attainable. "We are confident on 1,700 – we have discussed it with our partner GE and we are confident we should be able to be around there," says chief executive Olivier Andries. "This is meeting our two airframers' demands."
Both Airbus and Boeing plan to increase production of their respective A320neo and 737 Max narrowbody families in 2023. The Leap-1A is on option on the Neo, while the -1B variant is the exclusive powerplant on the Max.
Andries, briefing analysts on Safran's full-year results on 17 February, said that although the overall supply chain situation has not eased, "it has improved a bit on propulsion". CFM, he says, "is not pacing any more [the deliveries of] our airframer clients".
However, he feels that broader supply chain tightness will continue until "at least until the end of 2023", adding that "every day is a fight to get components".

Dominic Perry is deputy editor of Flight International but also contributes extensively to flightglobal.com. Although specialising in the coverage of the helicopter industry, he has written on most topics in aerospace – be they commercial, defence or business aviation. In addition, there has been an increasing focus on the decarbonisation of the industry and zero-emission flight initiatives.
View full Profile