Enginemaker CFM International sees potential in Latin America for its recently launched RISE engine demonstrator programme.
CFM initiated RISE, a demonstrator featuring an open rotor architecture that promises to deliver a 20% fuel efficiency gain over today's narrowbody powerplants, in June.
RISE stands for revolutionary innovation for sustainable engines, and the company says it expects to begin flight tests in the middle of the decade, maturing the technologies required to enable a new powerplant to enter service in the 2030s.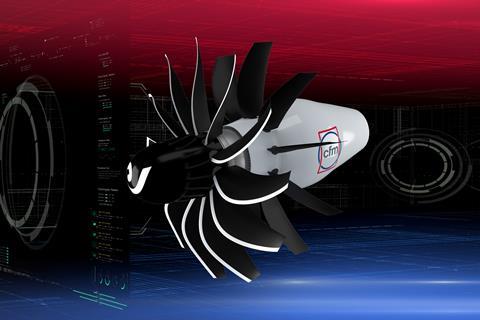 Speaking on the sidelines of the ALTA Airline Leaders Forum in Bogota on 25 October, Kevin Harris, general manager for CFM's Latin America sales team, says that Latin American carriers have expressed interest in the programme.
"Before we announced the launch of RISE we held small info sessions to give feedback," he says. That feedback has led the company to expect that "RISE is definitely going to be a piece in Latin America because there are so many operators in the region", Harris adds
The programme's declared goals include reducing fuel consumption and carbon dioxide emissions by more than 20% compared with CFM's current Leap engine, which itself delivered a 15% improvement in fuel burn over the preceding CFM56.
RISE builds on decades of research into open rotor designs at GE Aviation and Safran, CFM's joint owners, including the mid-1980s' GE36 – which made an appearance at the 1988 Farnborough air show aboard a McDonnell Douglas MD-80 – and the French firm's more recent Sage2 demonstrator.
Keren Rambow, CFM's vice-president of sales for the Americas, adds that since the programme's launch four months ago, the company has already done some flight tests on Leap-powered aircraft using 100% sustainable aviation fuel (SAF).