Embraer and engine supplier Pratt & Whitney are to collaborate on studies designed to culminate in a flight of an E195-E2 jet powered by unblended sustainable aviation fuel (SAF).
Detailed in a memorandum of understanding, the pact will see technical teams from the two companies work together to define a series of ground- and flight-tests for the 100% SAF operation of the E195-E2. No timeline was given for the trials to commence, however.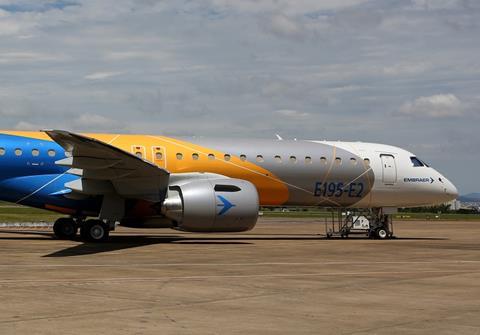 Currently, aircraft are authorised to use blends of up to 50% SAF.
"We are committed to continually enhancing the efficiency and performance of our products, and by further extending their compatibility with SAF, we will enable our customers to operate as sustainably as possible," says Arjan Meijer, chief executive of Embraer Commercial Aviation.
PW1900G engines power the E195-E2 and smaller E190-E2, while the E175-E2 uses the PW1700G.