General Electric expects to complete the divestiture of its energy division Vernova at the start of the second quarter of next year, leaving GE Aerospace as its sole surviving entity.
Boston-based GE, which has been pursuing a break-up plan for nearly two years, previously said it expected spin off Vernova in early 2024 but has now narrowed the timeline.
"We're well-positioned to launch GE Aerospace and GE Vernova as independent companies in the beginning of the second quarter," Lawrence Culp, chief executive of both GE Aerospace and parent GE, said on 24 October.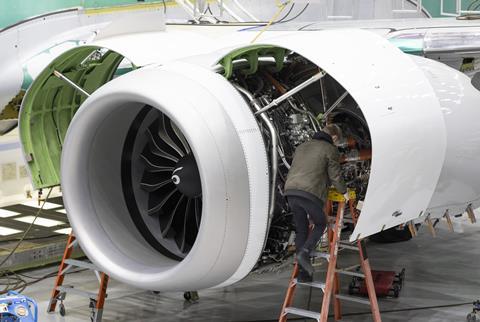 GE in 2021 revealed plans to break up its business by divesting its two non-aviation entities – Vernova and GE Healthcare Technologies. Executives said the move leave GE better able to focus on its aviation business.
The company completed the first of the divestitures in January when it spun off GE Healthcare. Once its Vernova divestiture is complete, GE Aerospace will be GE's only remaining business.
Earlier this year, Culp said he expects GE Aerospace will expand into new aerospace segments following the reorganisation, though he has not been specific.
"A wider aperture – for sure," Culp said on 9 March. "As we become a standalone public company, there are going to be a lot of things that we're going to look at, [that] we're going to consider."