Operators of Rolls-Royce-powered Airbus A380s are set to be ordered to inspect the type's engines for cracking of spacers between intermediate-pressure compressor discs.
The European Union Aviation Safety Agency says examination of a Trent 900 rotor shaft revealed a crack in an interstage spacer between the stage two and stage three discs, and that a similar crack was subsequently found – in the same location – on another rotor shaft.
"Investigation is ongoing to identify the cause of these cracks," it states. "It has been determined that more engines could be affected by this cracking phenomenon."
EASA warns that the condition could potentially lead to failure of the intermediate pressure compressor rotor shaft and release of high-energy debris.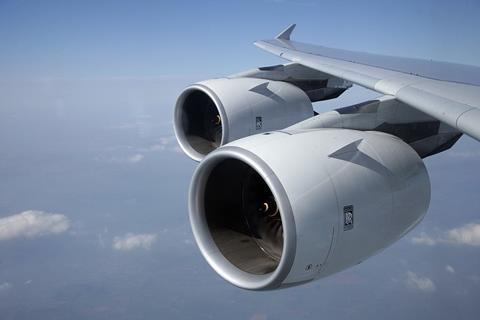 Rolls-Royce has published inspection instructions and EASA is proposing to mandate the checks through an airworthiness directive.
It will require on-wing borescope inspections – for certain engines – within 200 cycles, but will also order repetitive in-shop inspections of the rotor shaft. EASA is also proposing inspection of certain shafts prior to installation.
Engines found to have cracks would have to be withdrawn from service before the aircraft's next flight.
Emirates and Singapore Airlines are the largest operators of Trent-powered A380s, with Lufthansa, British Airways and Qantas among other major customers.