Airbus chief executive Guillaume Faury has warned that the company may need to adapt again in future as it navigates the "gravest crisis" in the company's history.
The European airframer has already begun steps to radically downsize its workforce in the face of reduced demand for its passenger aircraft in the face of the coronavirus pandemic.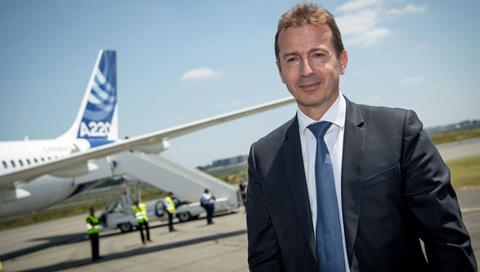 But Faury, speaking during the opening ceremony for this week's FIA Connect 'virtual Farnborough' event, said that the crisis – "which was in none of our risk scenarios" – had robbed the sector of the "certainty and visibility" it needs.
"We are a long-term industry with long lead times," says Faury.
While the company is "adapting" into a position where it is "stabilised" for the next one to two years, what follows is still uncertain.
"Then there will be a ramp-up, or maybe a longer term stabilisation or maybe another situation to face in 2021 or 2022," he says.
"That's why we believe we cannot just wait for things to get better."
Taking the right decisions now will give Airbus the flexibility to respond correctly in two years' time, he says, while staying competitive and also retaining the ability to invest for the future.
That investment will be vital as the industry increasingly focuses on "decarbonising flight", says Faury.
"We think there is, even more than before, the need to do the right investment now to prepare for the future."
The severe contraction of the commercial aviation sector has seen Airbus instead "rely a lot on defence, space and helicopter activities – which are far less impacted".
Although the defence sector has not emerged unscathed from the Covid-19 pandemic, Charles Woodburn, chief executive of BAE Systems, told the event that the impact has largely been felt by its supply chain who are also exposed to civil aviation. "That's an area of real concern going forwards," he says.
However, Woodburn argues that the defence industry can aid the UK's economic recovery from the "fiscal crisis" that will follow the ongoing health crisis.
"I think defence has a real role to play in this in terms of economic prosperity," he says, noting the jobs it supports throughout the country and the mitigation it can offer to civil-exposed businesses.
Additionally, BAE continues to invest in apprenticeships, he says, in order to prepare it for the future and "bring in fresh talent".