Boeing opened the Farnborough air show on 18 July by announcing an order from Delta Air Lines for 100 Boeing 737 Max 10s.
The Atlanta-based airline has also taken options to purchase an additional 30 of the jets, with deliveries starting from 2025, Delta and Boeing say.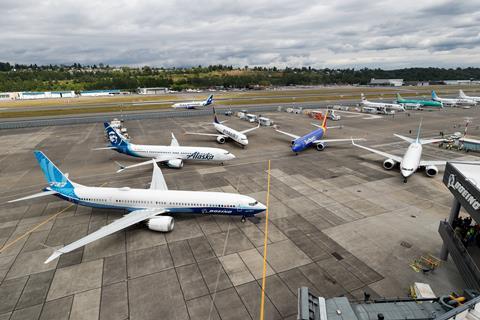 The deal throws much-needed momentum behind the 737 Max programme, and more specifically behind the Max 10, an aircraft with uncertain prospects due to pending new regulatory requirements.
The order is also notable because Boeing had until now not secured Delta, a current 737NG operator, as a 737 Max customer. Boeing has now sold the Max to all major US airlines, the others being American Airlines, Southwest Airlines and United Airlines.
The Max 10 has also been a tepid seller when compared to the success of the competing Airbus a321neo.
"This is a terrific moment for us. It is an inflection point in our relationship with Boeing and CFM," says Delta senior vice-president of fleet and tech ops supply chain Mahendra Nair.
CFM International Leap-1B turbofans power the Max.
"This is part of the deal we have been working for a long time," Nair adds. "We are back in the fray. We are pleased to be partnering with Boeing."
Delta expects to receive the 100 aircraft between 2025 and 2029, with the options, if exercised, to be delivered between 2029 and 2031.
The airline will outfit the aircraft with 182 seats.
"This is a huge testament to the value of the Max 10," says Boeing senior vice-president of commercial sales and marketing Ihssane Mounir.
Delta operates a narrowbody fleet split between 737NGs and Airbus A220s and A320-family jets. Until now, Delta had aligned its narrowbody-fleet future with Airbus; it holds outstanding orders for 39 A220s and 152 A321s, according to Cirium fleets data.
Delta will use the incoming 737 Max 10s to replace existing 737NGs. That fleet stands at a mix of about 235 737-800s and 737-900ERs, Cirium shows.
Delta chose the 737 Max due largely to pilot commonality with 737NGs, says Nair.
"That's the biggest factor in the decision-making process," he adds. "We have aircraft that are retiring."
The Max 10 faces uncertainty due to a new requirement, set to take effect in December, that will prohibit the US Federal Aviation Administration from certificating aircraft lacking a modern flight-crew alerting system, also known as a engine-indicating and crew-alerting system (EICAS)
No Max variants have such a system, raising the prospect of Boeing possibly needing to add such technology to the Max 10.
Boeing, however, says changing the Max 10 would erode pilot commonality between other 737 types, and hence erode safety.
Boeing says it may seek an exception from the rule if the Max 10's certification comes after the December deadline. The airframer aims to begin Max 10 deliveries in 2023.
Delta's Nair expresses confidence the Max 10 will be certified under its existing configuration. "I would urge everybody – Congress, the FAA – to consider the fact that the commonality is the bellwether for us," he says.
But if Boeing ends up needing to add EICAS to the Max 10, Delta "will have to rethink" the order, Nair says.
Additionally, Delta says it will hire Boeing to refurbish the cabins of 29 737-900ERs already in Delta's fleet.