Germany's government has unveiled the first of three Airbus A350-900s which have been configured for the special air mission wing of the ministry of defence.
The aircraft – designated 10+03, and the first of the type not destined for commercial service – has undergone modification at the Lufthansa Technik facility in Hamburg.
It will be subjected to final test flights over the next few weeks in preparation to achieve operational readiness status. Lufthansa Technik says the military certification and final delivery have been held up by the effects of the pandemic on supply chains.
Defence minister Annegret Kramp-Karrenbauer says the procurement process has been "exemplary".
"Everyone really pulled together here," she says. "With the new fleet we are securing global mobility as an important part of the federal government's ability to work."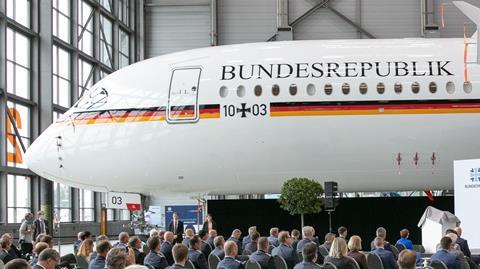 Two additional examples of the Rolls-Royce Trent XWB-powered aircraft – to be designated 10+01 and 10+02 – will be delivered in the future.
Lufthansa Technik chairman Johannes Bussmann says the A350s continue the company's "successful tradition" of supplying the German armed forces.
Originally registered as D-AGAF, the twinjet arrived at Lufthansa Technik's facility in May. It has been fitted with a "transitional" cabin for political and parliamentary flight services, says the company, including office and conference fittings, a lounge, and delegate space.
This interior will be swapped for a full government cabin once the other two aircraft – which will also have the cabin – are completed.