Boeing added a $168 million charge to its development of the US Air Force's (USAF) VC-25B presidential transport due to disruptions to its engineering process caused by coronavirus.
That is the first loss Boeing has recorded on the programme. The company is on contract to produce two 747-8-based executive transports to replace the USAF's older two 747-200B-based VC-25As.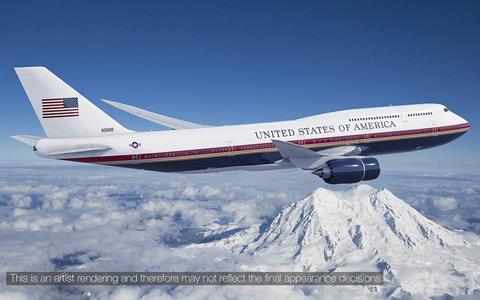 The VC-25A is popularly known by its "Air Force One" call sign when the president of the USA flies aboard.
"The reach-forward loss on VC-25B is associated with engineering inefficiencies from the Covid-19 environment," says Boeing in its first quarter financial filing with the Securities and Exchange Commission. "We believe these inefficiencies will result in staffing challenges, schedule inefficiencies and higher costs in the upcoming phases of the programme."
The company might be able to recover some of the loss via provisions of the aerospace bailout package, the Cares Act, says Boeing chief financial officer Greg Smith on a first quarter 2020 earnings call on 29 April.
The loss and hint of likely delays differs sharply from a rosy assessment of the programme given two weeks ago by Will Roper, assistant secretary of the USAF for acquisition technology and logistics. He said that the programme would pass its critical design review using video conferences.
In fact, the VC-25B programme was supposed to benefit from the coronavirus, Roper said on 16 April.
"A lot of the engineers, tools and talent that would be dedicated to other commercial functions within Boeing have now been available to help that programme," he said, noting the company's commercial aircraft production is idled. "I don't see any slips right now [in schedule] for VC-25B because of Covid-19."
Roper declined to comment on the programme saying that he had just learned of the issues.