Canberra will send a single Boeing E-7A Wedgetail airborne early warning and control (AEW&C) aircraft for a six-month deployment in Germany.
The aircraft will deploy in October along with 100 crew and support personnel, according to Australia's Department of Defence (DoD).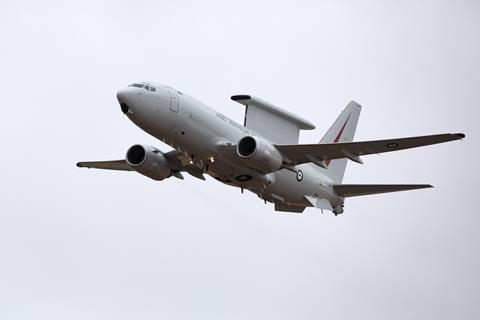 Citing Russia's "illegal and immoral invasion" of Ukraine, the DoD says that the E-7A will "help protect a vital gateway of international humanitarian and military assistance to Ukraine".
The AEW&C asset will add to efforts by partner nations to support Ukraine. Canberra stresses that the aircraft will not operate in the airspace above Belarus, Russia, or Ukraine.
"The deployment of the E-7A Wedgetail as an additional early warning capability will help ensure that vital support flowing to Ukraine by the international community is protected," says Australian defence minister Richard Marles.
"Australia is committed to ensuring Ukraine's sovereignty and territorial integrity prevails against Russia's assault on the rules-based order."
In an interview with Australia's Sky News, Marles indicated that Australia's partners had sought the deployment of the E-7A capability to Europe.
Marles declined to comment when pressed on the specific functions the E-7A will provide during the deployment. Still, he states that the aircraft will provide "a really important enabling function" and "plays an important part in terms of the timing of other operations that occur".
Australia has provided strong humanitarian and defence support for Ukraine, including the provision of military vehicles.
Cirium fleets data indicates that the Royal Australian Air Force operates six E-7As with an average age of 18.4 years. A derivative of the 737-700 airliner, the E-7A is powered by a pair of CFM International CFM56 engines.