Babcock Canada and Leonardo Canada have signed a letter of intent to jointly pursue Canada's Future Aircrew Training (FAcT) programme.
The two companies have formed a Canadian joint venture for the bid, they announced on 14 May. The combination reduces the competition to just two offers: the Babcock-Leonardo joint venture and SkyAlyne Canada. No other firms are qualified to participate.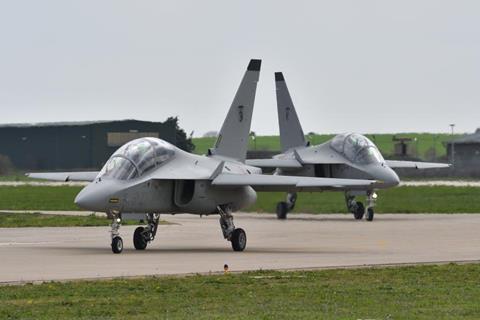 Ottawa is looking to sign a 20-year contract in 2023, estimated to be worth billions of dollars, for comprehensive aircrew training. The winning vendor would provide pilot training, as well as aircrew training for air combat systems officers and airborne electronic sensor operators, says the Canadian government. The contractor would also supply aircraft, simulators, civilian instructors and classroom training systems, as well as other services, such as aircraft and airfield maintenance.
Leonardo makes two jet trainers: the M-345 and M-346. The company also offers aircraft simulators. Babcock offers a range of pilot and air traffic control instruction services. The specific equipment offered and workshare between the two firms for the competition was not disclosed.
Canada released a FAcT draft request for proposals last December. A formal request for proposals is expected later this year. The contract is scheduled to be awarded in 2023.
The Canadian government says BAE Systems, Airbus Defence & Space and Lockheed Martin Canada withdrew from the competition in 2019 and 2020.
The FAcT competition comes at the same time that Canada is searching for a next-generation combat aircraft to replace its fleet of ageing Boeing CF-18s. The Future Fighter Capability Project acquisition effort will require a parallel training regime to teach pilots how to fly new combat aircraft.
The Future Fighter Capability Project seeks to buy 88 advanced fighter jets for C$15-19 billion ($12.4-15.7 billion). The Canadian government is evaluating proposals from Boeing (F/A-18E/F Super Hornet), Lockheed Martin (F-35 Lightning II) and Saab (Gripen E). The contract award is anticipated in 2022, with the first replacement aircraft to be delivered as soon as 2025.