Boeing has delivered the final Block II F/A-18E/F Super Hornet to the US Navy (USN), handing over the last aircraft on 17 April, says the service.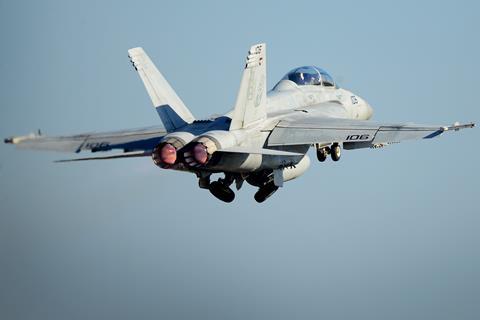 "Aircraft E322 will leave Boeing's production line and head straight to Strike Fighter Squadron 34 based in [Naval Air Station] Oceana," says USN Commander Tyler Tennille, of the Defense Contract Management Agency, who supervises F/A-18 acceptance testing.
In total, the USN received 322 one-seat F/A-18Es and 286 two-seat F/A-18Fs as part of the Block II Super Hornet programme, which started in 2005. The aircraft fuselage is built at Northrop Grumman's facilities in El Segundo, California. Final assembly is completed at Boeing's St Louis facilities.
Compared to the initial tranche of Block I Super Hornets, which began production in 1997, the Block II variant came with Active Electronically Scanned Array radar, larger cockpit displays, upgraded sensors and avionics, and increased range.
The Super Hornet, which is about 3,180kg (7,000lb) heavier and has 50% greater range than the smaller classic Hornet, was ordered by the USN to replace the Grumman F-14 Tomcat, which was retired in 2006.
The USN and Boeing are also working on a Block III Super Hornet variant. The first two of the service's Block III test jets are scheduled to be delivered in the next two months, says the USN. The service plans to flight test those aircraft at Naval Air Station Patuxent River in Maryland and Naval Air Weapons System China Lake in California in late spring 2020.
The Block III aircraft include a faster mission computer and a more-robust communications system – upgrades that could eventually help the aircraft control and direct loyal wingman unmanned air vehicles. The aircraft also have conformal fuel tanks, which carry 1,590kg of extra fuel, and a 10,000-flight-hour lifespan.
The USN plans to buy 72 Block III Super Hornet aircraft between FY2019 and FY2021.