The US Air Force (USAF) approved Boeing's KC-46A Pegasus in-flight refuelling tanker to refuel five additional aircraft types on 6 December, marking continued slow expansion of the aircraft's capabilities.
Aircraft approved for refuelling include the Boeing E-3G Sentry, Lockheed Martin C-5M Super Galaxy and three variants of Lockheed's C-130 – the AC-130J Ghostrider, HC-130J Combat King II and MC-130J Commando II, the USAF said on 6 December.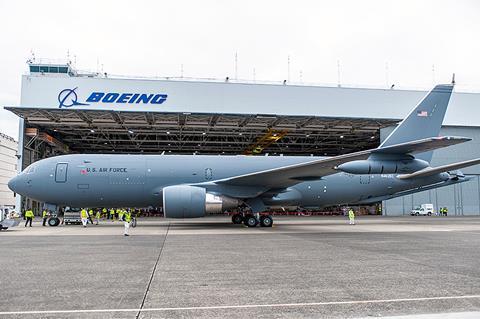 Those aircraft are now approved for refuelling when performing US Transportation Command (USTRANSCOM) missions, the USAF says. The service has been restricting the tanker's usage due to problems with its refuelling boom, including too much stiffness and a camera system that distorts images.
The USAF has said it expects to receive from Boeing a new boom camera kit – dubbed Remote Vision System 2.0 – in fiscal year 2024. A fix for the overly stiff refuelling boom is expected in calendar year 2024.
Until then, the USAF is using work-around solutions and incrementally approving the aircraft for new refuelling missions. The USAF in July granted its first interim new-mission approval, for the KC-46A to refuel aircraft using its centreline drogue refuelling system – a hose that extends from under the back of the fuselage to refuel jets that have probes, such as the US Navy's Boeing F/A-18E/F Super Hornet. This most-recent set of missions, approved by General Mike Minihan, commander of Air Mobility Command, is the fourth interim capability release.
"The KC-46A can now support nearly 70% of all receiver aircraft that request air refuelling support from USTRANSCOM," says Lieutenant Colonel Kevin White, Air Mobility Command's deputy chief of aircraft and logistics requirements division. "In addition, we are putting the Pegasus against our highest priority missions, such as direct Presidential [aircraft] support."
The USAF notes that the KC-46A's approval for flying additional missions will help free older Boeing KC-135 Stratotankers and McDonnell Douglas KC-10 Extenders for other missions – presumably operations for which the Pegasus is yet unapproved.
Though KC-46 fixes are expected to be completed around 2024, the USAF says it has "no timeline associated with the overall [interim capability release] plan". Instead, the service plans to incrementally approve the KC-46A for new missions as new capabilities are demonstrated.
"Crews will continue to fly training, exercise and demonstration missions until all operational confidence measures are met," says the service.
The USAF has received 50 KC-46As since deliveries started in 2019. Those aircraft have completed more than 6,000 missions, offloading more than 17.1 million kg (37.8 million lb) of fuel while making 28,000 boom and 1,900 probe-and-drogue contacts with receiving aircraft.